See orifices like never before!
Yesterday, Nintendo gave me the chance to check out the latest build of Ocarina of Time 3D. They showed off a few areas, the Deku Tree, Kokiri Forest, Hyrule Field, Hyrule Castle Town, The Temple of Time, and Jabu-Jabu's Belly.
Though the gameplay and music is the same, the graphics are much easier on the eyes. Honestly, the original Ocarina looks like a muddy mess compared to the new rendition. The new version has all new models, including signs on buildings that weren't there before. Hyrule Castle Town feels bustling. Ocarina is also known for its early use of facial expressions, and they are more detailed and striking on 3DS. Jabu-Jabu's internals appear much more organic, and the game overall is more saturated. Fog is still present, but greatly reduced.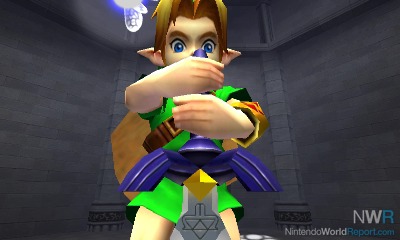 Camera systems have improved since Ocarina was released, but unfortunately, it doesn't appear that much was changed, and it's easy to get turned in the wrong direction due to perspective shifts. The big exception is for first-person targeting. While players can still use the Circle Pad to aim, they can also move the entire 3DS around in space, letting the system's motion control provide a moving window into the land of Hyrule. This system enables players to react much more quickly and accurately than the Circle Pad. However, it can be hard to use the system while sitting down, and the movement puts stereoscopic alignment at risk.
The touch screen allows for easier weapon assignment, which can map to face buttons, as well as touch panels. The map and much of the HUD has been moved there as well, freeing up the top screen for more cinematic adventuring.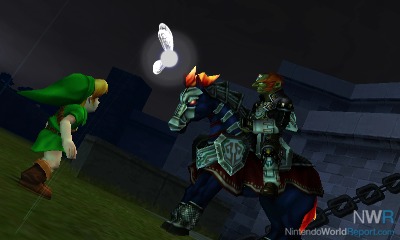 As revealed by the OFLC yesterday, the game is being co-developed by Grezzo. Apparently, Master Quest content will form a second quest for the game -- it is not initially accessible. There may be more additions, but they haven't been revealed yet. As the 3DS does not have rumble, we at least know that that feature will be missing. Otherwise, it's mostly the same game, but better.
The Legend of Zelda: Ocarina of Time 3D launches worldwide in June.