Nintendogs plus cats, minus bath time.
Nintendogs + Cats made an appearance in demo form once more. Since E3, cat interactivity has been added and a slightly larger selection of toys and accessories to test out, such as bouncy things, fancy collars, and sunglasses.
The dog and cat were onscreen at the same time. If they were both within camera range, when you clicked on the whistle icon the lower screen would change to show a silhouette of each pet. You could then you tap to call the one you wanted.
It was mentioned at the presentation that it is harder to make friends with the cats, but it wasn't apparent in the demo. Both pets were very happy as they were not set to be new pets. The cat bounced up to the screen, paws up, and accepted petting much like the original Nintendogs. The gestures for tricks worked on cats too, and I was able to get it to sit, lie down, and roll onto each side. It seems that the trick list for cats is less extensive than for dogs, and there may even be different cat-only tricks.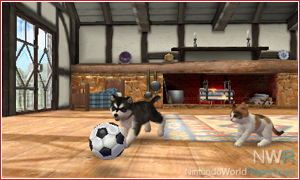 The depth introduced by 3D mode makes the game look more interesting and visually rich. The 3D is subtle, making the pets appear smoother and rounded off. Round things don't suffer from sharp edges, and actually look curved. The effect is exaggerated when throwing toys, such as when I tossed a bouncy mushroom into the distance.
Nintendogs + Cats was confirmed for Western release with three titles: Toy Poodle & New Friends, French Bulldog & New Friends, and Golden Retriever & New Friends (replacing Japan's Shiba & New Friends).