James Charlton gives us a first hands-on look at Kid Icarus: Uprising.
After watching Masahiro Sakurai give a long stage presentation about the new Kid Icarus game, I couldn't help but be excited to get my hands on it. Luckily the first-ever playable demo was being shown just a few steps away.
During the wait, there were several screens showing a rather entertaining video explaining the background and history to the Kid Icarus games. It had some humourous banter between the main man, Pit, and the ethereal goddess, Palutena. They explained it's been almost 25 years since the original Famicom release, and that Pit might even meet monsters found back in that original version. It was then explained that there are two options in the demo, easy or hard, both presenting you with entirely different levels and bosses. Most people opted for the easy stage, which had Pit flying through clouds and shooting waves of enemies with the stylus and R button.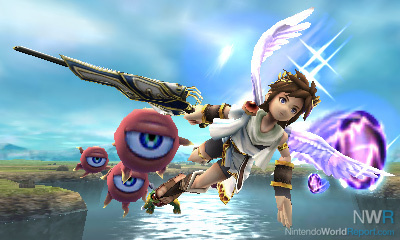 I, however, really wanted to see what the ground combat and dodging mechanics were like, so I opted for hard mode to check them out first hand once and for all. The slide pad is used for movement around the level, as playfully explained to me in the video beforehand, dashing is achieved by smashing and holding the stick in the direction you want, just like in Smash Bros. It felt a little awkward moving Pit around, as it felt a little sticky; he was either walking too slowly or running at full speed. The slide pad is also used for evading, and just smashing the stick once in the desired direction does this. It was especially useful when avoiding a certain enemy that came running at you with spinning blades.

Aiming your weapon is handled with the touch screen and stylus, meaning that you're effectively playing this like you would any first-person shooter on the DS. The difference is that it doesn't affect the viewpoint that much, as you are merely sliding and placing the aiming reticule where you want to shoot, as opposed to being attached to your viewpoint like you would in an FPS.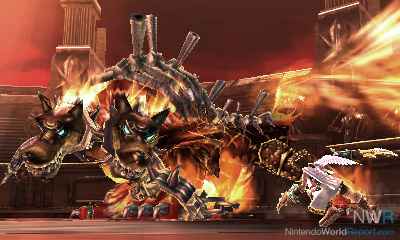 When you reach the very edge of the touch screen, you begin to move your view to the left or right, but this only happens very slowly. However, according to the instructions, a quick slide to the right or left would change your view quicker and let you shoot enemies to the side of you. The problem was that I just couldn't get this to work effectively for me. I even got flashbacks of playing Red Steel, where I was trying to turn to kill people just out of my eye line, but by the time the super-slow camera had done so, the enemy had moved or shot me 30 times. Maybe I was doing it wrong, or maybe I just need more time with it to be able to get this to work every time. I realise this is a hard thing to get right, as this isn't an FPS or a rail shooter, but a third-person action game somewhere in between.
Despite having these control issues, I got through the hard stage and onto the boss, who I almost killed before my time was up. After that, I got a score for that stage, which makes me hope for online leaderboards in the final version. Apparently the stages shown at the show are time-limited condensed versions of actual stages from the game, as it looks like the time you took will also play a factor in your high scores.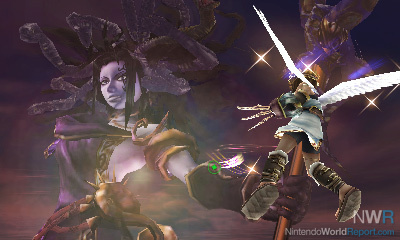 Visually, I think it looks great. Pit looks just as good as he does in Smash Bros Brawl, maybe even better in 3D. The environments were detailed, if a little uninteresting, as were the enemies. I did wonder why the other character models looked so basic compared to Pit. I hope it's a technical limitation and not a design choice.
The music was outstanding; anyone who watched the E3 trailer will have an idea about how good it sounds. The only downside is that Palutena is giving you constant hints about what to do next, what the enemies are, what the rail that you're grinding on is called (grind rail), etc. It started to get a bit irritating by the end of the demo. I certainly hope they choose a good voice actress for the English release!
Overall, I'm looking forward to playing the final build, as any game that combines Smash Bros. and Star Fox gets a look in my book. I just hope that Sakurai can pull it off successfully.