Fun for the whole family!
The game mode of Wii Party that I tried out featured co-op and competive play. Basically the set-up had me and my competitor each playing mini-games that lasted 30 seconds to a minute. The interface was very similar to Wii Sports and Miis are of course featured in every mini-game.
The first game I played was a fishing game. Both players hold the Wii Remote horizontally and must lift up the controller when it begins to shake. I thought I was raising the controller pretty quicky, but I did not catch any fish.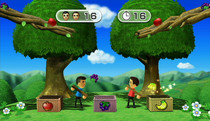 The next game I tried had both of us placing Miis onto a large sailing ship. The goal was to keep the ship afloat by carefully placing Miis to mantain balance. There were three rows you could place Miis, each with their own color. Yellow Miis would go on the yellow row and so forth. You would pick up a Mii by highlighting the Wii Remote cursor over them and pressing the A button. You could drag them to any place on the row of their color. After every one or two mini-games you would return to to the boat so you could add another character.
Probably the best mini-game that I saw was Blastronatus. Both players were flying in outer space attached by a string. Each player has a jet pack and they must rocket up to the top of the screen while avoiding asteroids. Each player holds the Wii Remote NES style and can change the direction they rocket off in by tilting it left and right. In this game you really needed to cooperate with your partner to reach the goal.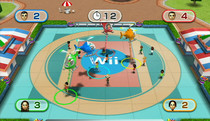 Another cool game was Bumper crops. Three different kinds of fruit were falling from the sky and you needed to bounce the fruit into their appropriate baskets. Each Wii Remote controlled a small tilting platform that was next to the baskets. It was fun bouncing the fruit, and was really cool to bounce the fruit into a basket that was far away.
The mini-games I played seemed pretty solid, and it seems like fans of Mario Party and Wii Sports should really get a kick out it. Compared to Mario Party 8 the game was definitely using the Wii Remote to much better effect. The game will have over 70 mini-games when it is released.