Deep Silver's mountainous take on survival horror has great atmosphere, but a few issues.
I recently spent a little time with the upcoming Wii-exclusive survival horror game Cursed Mountain at a Deep Silver event in New York City. The game, set for a late August release, promises to bring a new take on the genre and take advantage of Wii controls.
First off, the atmosphere and setting are great. It takes place on a cursed mountain (get it?) in the Himalayas where the main character is trying to find his brother. There's all this supernatural stuff going on with spirits attacking you and curses on doors stopping you from entering them. The air is riddled with small snowflakes and an otherworldly feel. However, that doesn't make it a bone-chilling and frightening game.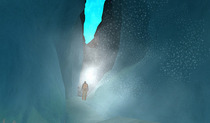 Contrary to most claustrophobic horror games, Cursed Mountain takes place in a wide open environment where you can see the mountains surrounding you. However, I don't know if I'd call that a good thing; the setting is creepy, but it's too wide open. If an enemy attacks, I don't feel as threatened. It's not like Resident Evil where you walk down a corridor and you have to dodge a dog flying through a window. The level I played was early in the game, though, so hopefully the sense of danger ramps up as you go along.
Aside from that gripe, I also had some issues with the gameplay. The section I played, which I believe is from the second or third level (there are 13 in total), was kind of boring. While there is an excellent tone-setting intro where you uncover the diary of another climber, the gameplay felt monotonous. You aimlessly walk around and explore a deserted town that doesn't offer much to do other than fighting spirit creatures.
After I wandered around this town dispatching enemies left and right, I discovered a path that led to a lower part of town. It was then, as I entered a building, that the story progressed. There was some tantric sex ritual being performed and after I got a new gesture control. I then had to return to the top part of the village and perform this new gesture control in front of cursed doors and enter them to collect fragments of an artifact.
The game really only got frightening when I entered these buildings, which had the claustrophobic feel typical of survival horror. This was especially true when they flashed weird imagery, such as the tantric sex ritual. Those parts reminded me a bit of Eternal Darkness.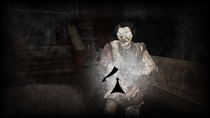 As far as the combat goes, Deep Silver boasts that you don't use conventional weaponry in this game and you must use prayer to relinquish the evil spirits. However, I didn't find this to be true as the hero wields a pick axe and a Kartika, which shoots out projectiles. You could theoretically go up to an enemy and spam the pick axe and defeat them, or you could line up projectile shots and beat them that way.
There's also another way you can defeat enemies, and this is where the game gets off on proclaiming it requires "no weapons." Once you weaken an enemy and line up the Kartika, a red circle appears on them and you have to line up the pointer and press the A button. After that, you must perform a series of gestures with the Wii Remote and Nunchuk that banish the spirit.
The gestures work fine, as do the majority of the controls. It's pretty intuitive and easy to pick up. Only the Kartika presented control issues. To use it, you must hold down the C button, use the analog stick to control where you character looks, the pointer to aim, and then press the B button to fire. Already pretty complicated, it gets even worse when your character seems to always aim higher than every enemy and you must bring the aim down to the enemy almost every time. This game would benefit greatly from some sort of aim assist.
While I do have quite a few issues with Cursed Mountain, I'm still interested in trying out the finished product. It seems to be slower paced, but the setting and story, which has a focus as Buddhism, sounds interesting enough to carry the game past its gameplay issues.
Cursed Mountain is set to come out on August 25 in North America, and September 4 in Europe.