Want to play Puyo Puyo Tetris or Disgaea 5 early? Then listen up.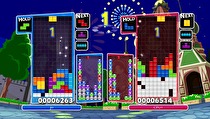 With the release of the Switch came the glorious news that the system would be region free. And as long as you have an extra email address, you can have the United States, United Kingdom, and Japan all intermingling on the same console.
It's a simple process to set up a new account, but does need to be done outside of the Switch as they'll direct you to the web to set an account up first.
Setting Up The Account
1) Go to the Nintendo Account main page and sign out if logged in.
2) Click on "Create a Nintendo Account".
3) Scroll down past the social/Nintendo Network ID options and you should see the information required. In the picture below, I'm making an Australian eShop account. Password requirements are 8-20 characters, one uppercase letter/number/symbol.
4) For verification, an email with a 4 digit code will be sent to the email you selected. Punch it in (30 minutes to do it).
5) Once the code is entered, you'll be at the screen below with an option to set a user ID. That's all that has to be done on the PC.
6) On the Switch, go to System Settings and click "Users", then "Add User" and select an icon and nickname.
7) After the confirmation, the option to "Sign In and Link" the account will appear.
8) Choose to enter with an email or User ID.
After entering the information, you're done! Optionally, you can go into the eShop and choose to have it boot when you pick that ID without having to enter the password every time, though you will need to enter it to confirm.
What To Do With Foreign eShop Accounts
In order to actually buy items from the foreign eShops, some people are reporting success with Visa-branded debit cards - the funds would be taken as a direct draw from your bank account in your home country's funds + exchange rate. An alternate option is to find retailers that deal in international eShop codes: PlayAsia is a highly regarded dealer in Japanese cards, OffGamers handles Australia, PC Card Supply North America, and PayPal's Digital Gift store can work for North America and Europe.
Some Japanese games even come with English support, such as Disgaea 5 Complete and I Am Setsuna, so those games can be imported from Japan and the foreign account used to get DLC (the DLC must match the region of the game). Free demos can also be downloaded without hassle, such as for Puyo Puyo Tetris and Dragon Quest Heroes I + II.