The votes have been cast and the people have spoken.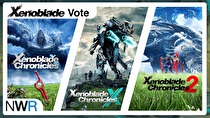 After a week of celebrating Xenoblade and debating our favorite version, the final results have been calculated and a winner has been decided. Initially, I had assumed the winner was going to be Xenoblade Chronicles 2, but what I didn't expect was just how close the results would be.
Xenoblade Chronicles 2: 42.4%
Xenoblade Chronicles X: 29.6%
Xenoblade Chronicles: 28.0%
According to NWR readers, the consensus winner is Xenoblade Chronicles 2. Having said that, the results are fairly close which indicates that each version has its own strengths and fan base.
If XenoWeek has taught us anything, it's that the Xenoblade series is a fan favorite and we all wait in anticipation for what Monolith Soft decides to give us next.