No shortage of Nindie games to choose from this week.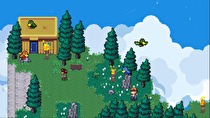 This week saw the release of multiple games over multiple genres, headlined by the much anticipated Golf Story. If sports aren't your thing then there was Conga Master Party for those looking for some fun or Picross S if your're into puzzles. With all of the options available what did our panel of Nindie-experts decide to play?
Neal: I'm working on finishing up our review of it, but Golf Story is, so far, very much the real deal. You know we're all like "man, wish Nintendo would make a Mario Golf RPG again" on the regular? Well, Sidebar Games made a Mario Golf RPG again, but it's called Golf Story and it's got a total weird EarthBound vibe. You're an aspiring golfer trying to go pro, and to do that, you have compete in tournaments while also saving turtles, mowing lawns, putting Disc Golfers in their place, and so much more.
Justin: Just to be different, though Golf Story so far is incredible, I'll go with INVERSUS Deluxe of the current onslaught I've played, but I'd put Sine Mora EX close behind. Since I played the original Sine Mora it loses some excitement though I will say it is absolutely gorgeous on the Switch and as brutally hard as ever. Back to INVERSUS Deluxe, it is a full package deal all the way, supporting single-player, mutli-player co-op, multi-player versus, and online play as well. Its visual simplicity is still pretty stunning and the concept works very well for what I've played so far, where your shots change the color of the floor, both allowing you greater movement and pinning your opponent in. Looking forward to playing it with my wife and kids to see how it works with other people!
Perry: I've been playing and enjoying INVERSUS, a twin-stick shooter that came out along with a boat-load of other releases this week. The simplicity and tight gameplay is fun and all, but I don't know if the single player content will hold up after a long period of time. The multiplayer however is very fun, and there are lots of options online and offline to play with your friends. Look forward to my review very soon!
David L: I still haven't been able to put down Kingdom: New Lands or NeuroVoider. In Kingdom, I've made it to the final island and discovered along the way many new mechanics that keep the game feeling new and fresh. After watching one of Justin's YouTube videos on NeuroVoider I attempted a new strategy that got me to the final boss of the game. Unfortunately I died in that same battle so I still have an excuse to go back and play some more.
Neal: I'll tease an upcoming interview as well as a future release. Yono and the Celestial Elephants (aka Elephant Zelda) is due out on October 12 and well, that's real close! The interview we have that will go up after we sort through the deluge of new releases this week has some pure gold from developer Niklas Hallin, including clarifying its inspirations (Game Boy Zeldas, specifically Minish Cap) and even going in deep on the philosophical notions of the deep lore.
Justin: In the immediately upcoming space I've begun playing Lovers in a Dangerous Spacetime and even as a single-player experience I'm very impressed with how well it plays out strategically. You'll be able to get some help in the form of an AI pet you can direct to the station you need help with in place of needing to coordinate with another player. I'd think that challenge is then replaced by the craziness of trying to yell at a friend (or 3) as you include more people but haven't had a chance to play with more folks yet.
Moving slightly further out I'm thrilled that Stardew Valley seems to finally be making its way towards release and also can't wait to sink my teeth into Wulverblade, which is planned to be coming soon and I'll have an interview going up on NWR in the near future for it as well!