What's the NWR staff playing playing these days? I don't know, let's ask.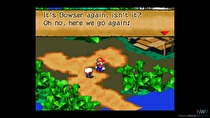 Neal Ronaghan: While most of my recent playtime is under lock and key (save for this Splatoon 2 single-player preview), I have been dabbling in other games, too. I finished up revisiting Super Mario RPG for our Patreon Plays Game Club and then promptly moved my apparent SNES kick to Super Metroid. I just got the Ice Beam and replaying Super Metroid is making me even more stoked for Metroid: Samus Returns.
On Switch, I returned to NBA Playgrounds following the big update and messed around with De Mambo (bought it on the Japanese eShop). I'm slightly underwhelmed by De Mambo's single-player and have yet to check out the multiplayer (which is the focus from what I gather).
---
Justin Nation: With the Nindie focus this last week has been a bit insane. I trudged through the somewhat dismal and depressing state of Vaccine. I really wanted to like it but it has some serious issues, especially if you try to play in handheld mode.
Also on my "makes me somewhat sad" list is I and Me. It is a decent "traditional" puzzle game in that you've probably played some variant of it before in some other form. They may have won me over if the kittens in the game met a grisly fate when impaled on spikes or drowned but, alas, just a "Meow" and they fall off the screen. I count it as an opportunity missed!
Last on my list of "I'm doing this for your benefit" games for the week is Shephy, which is actually a decent card game but I don't know if there's anything to say that will excite people about it unless you're genuinely looking for a card game to knock around on your Switch.
Getting away from the depressing fare I finally completed all 80 levels of the upcoming puzzle game that is absolutely worth your time, Death Squared. There is a sort of ballet required to clear the levels and you can play Story mode by yourself or with a friend. My wife stuck it out with me for the first 65 levels but the last 15 stressed her out too much so I did them solo. Thoroughly enjoyed it, eager to share my review.
I'm still checking in periodically to unlock extra medals and get into more extended content in Implosion. The action is a blast, the boss battles are intense, and I continue to be impressed with the amount of content to play through.
Last, my fill-in game has officially become Gonner. I have gotten to the point where I can regularly get to the Death World with my trusty scythe as my weapon of choice. That said, I have yet to defeat Death and beat the game. I'll get you yet Death! Absolutely love the flow and feel of the game but understand it isn't likely for everyone.
---
David Lloyd: The majority of my late night gaming sessions have primarily been playing Arms. With a likely end date of July 21 on the horizon, I've wanted to get as much done in Arms as I could. I've stuck to Party Mode to build up my currency to fill out my Arms arsenal.
Because all work and no play makes David a dull boy, I've mixed in some titles from the newly announced Super NES Classic. I've started both Mega Man X and Super Metroid with the intention of finishing both by the weekend.
Lastly, I've made time each day to get in the daily challenge on TumbleSeed. I can't say I've gotten any closer to actually healing the mountain but I still enjoy trying.
---
Karlie Yeung: This week I've played through the recent 3DS demos. I didn't like the playstyle of Ever Oasis as much as I hoped, since I do really like RPG-type games with this kind of presentation but I found the combat to be a chore that had to be done just to see the rest of the game.
Hey Pikmin on the other hand, I loved! I realized I missed playing Pikmin and the handheld version really captures the same feeling of collecting and tossing Pikmin around to make new discoveries. Of course it's no longer a 3D world, but the puzzles shown within the 2D space were intriguing so far.
---
Donald Theriault: Thanks to work commitments I really haven't had the energy to turn on my Switch or 3DS most nights but I have been grinding Fire Emblem Heroes like a madman. In a week, they added two modes that remix existing story stages in a unique way, and restarted a feature that debuted just before E3 that I thought I could only get the maximum rewards out of because it happened during E3. Thanks to these new additions, I've been able to max out a bunch of units, which helps when I've pulled exactly two 5* units in the last month and one's a duplicate.
I've also been dipping into Tokyo Xanadu on the PS Vita (cheers to Aksys for hooking me up with that one), which is an action RPG developed by possible future Switch developers Nihon Falcom. I'm still early on, but the action sequences are interspersed with Persona-style social elements that have me wondering just how deep the rabbit hole goes.
---
Casey Gibson: I was lucky enough to have past week off from work and got to spend it lakeside in Maine, however that didn't stop me from getting my game on. In fact it opened the door to play a bunch of Nindies, some of which hit the mark in a big way, but also a few that ultimately fell flat. I started by wrapping up my play through of Cave Story+. After hearing plenty over the years, I was happy to finally get around to it and it proved to be worth my time. I then moved onto a game with tons of positive buzz surrounding it, the recently released Gonner. After diving in, it's easy to see why the reception has been so warm, offering addicting gameplay with stunning visuals. Oh, and it only gets a hundred times better when you unlock the scythe.
After striking success with back-to-back Nindies, I decided to give Mr. Shifty a go. Initially, it was engaging and felt like something I could get into, but it failed to set its hooks in me. Not a bad game by any means, but it never gave me the "I can't put this game down" vibes, which is a shame. Continuing that trend, I've been playing De Mambo for review. While I still have some more multiplayer to mess around with before giving my final verdict, it's trending in the direction of being forgettable (by the time you read this, my review with my final thoughts will be posted for those interested).
Concluding a busy week of gaming, I put a bow on Super Mario RPG for the first time ever. Seeing its end has eluded me all these years despite numerous attempts, but our Patreon Plays Game Club was just the motivation needed to finally conquer Smithy. The game earns the right to be dubbed a classic, spawning two significant series in Nintendo's arsenal, but even with that, it's still no Chrono Trigger!