This is but one of the legends of which the people speak...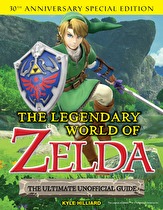 I have fond memories of scouring Barnes & Noble or the late bookstore Borders for video game books when I was younger. Most trips would lead to some sad conversation with a store clerk when I asked about Chris Kohler's then out-of-print "Power Up" or some other hard-to-find niche book about gaming. Even back then, I was searching for books that would contain something I couldn't find online. I craved thoughtful writing about video games.
"The Legendary World of Zelda: The Ultimate Unofficial Guide" by Game Informer's Kyle Hilliard (US $9.99, CA $12.99) isn't really that, but that's okay. What it is is a light read that surveys the entirety of the Zelda series, touching on each game, trope, and staple. It never dives too deep into anything, but it's nice as a coffee table read that recounts the stories, items, and adventures found in each of the Zelda games over the past 30 years. But in the age of wikis and the Internet, it's a superfluous book. The appeal of this book is that it gives you all of the basics of the series in a nice, tiny package with some colorful pictures and screens from the games.
It starts off with the series' origins, and then goes, chronologically, game-by-game detailing the story, items, and releases. It trails off after 2015's The Legend of Zelda: Tri Force Heroes, as Breath of the Wild came out after the book went to print. Aside from the game recaps, the book touches on the Hyrule Historia-approved timeline, the various spinoffs, and Zelda's influence on gaming.
While the information found in here can be found online with ease, it's still nice to have it in book form. Especially with the simpler writing style, I'd recommend it for a younger Zelda fan mostly, as that's probably the ideal audience for this format.