The power went out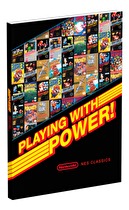 The idea of Playing with Power, the NES Classic-focused strategy guide from Prima Games, is great. It's a retro-fueled collection of strategy guides - some ripped from old issues of Nintendo Power - perfect for sitting down with the NES Classic (or any of the games on Virtual Console or in their original form). The book features muddy, pixelated images throughout that look like they're captured from a crappy emulator, though, making it little more than a messy curio for people who don't want to go online for their strategy guides.
Only 17 of the NES Classic's 30 games are featured, which makes a little bit of sense since those 17 games are all published by Nintendo. If this were a true throwback to the days of Nintendo Power, though, then the third-party games should have been featured. Back in the day, Castlevania, Ninja Gaiden, and Mega Man all got love in the pages of the magazine. Final Fantasy even had its own Nintendo Power-made player's guide back in the day. In this book, it's nothing but Nintendo's work. And even those manage to be incomplete. The most egregious error is a missing overworld map for The Legend of Zelda. There's a header and everything for it, but the map is completely absent. A lot of other maps are cut off and some of the artwork and screens look like they could have been pulled from the days when gaming magazines had to use a camera to photograph screens off of the television.
A few reprinted Nintendo Power articles are the only saving grace, but those don't make up for the numerous disappointments. Playing with Power could have been something special. Instead, it's something forgettable and bad. You're better off seeking out guides for these games online, no matter how much you want a physical product.
Review copy provided by Prima Games