Three years later, NWR staffers take a new look at this 3DS classic.
This time on Review Revisit, we're taking a look at the 2011 3DS title Super Mario 3D Land. Though the system was carrying troubling sales numbers throughout 2011, EAD Tokyo's smash hit helped propel the system's audience to new heights. Our original reviewer, Neal Ronaghan, said the following in his original review, awarding the game a 9.5 out of 10:
"EAD Tokyo's 3DS debut is marvelous, and filled with almost endless creativity. The control and graphical quirks are a little off-putting, but more because we're so accustomed to 3D and side-scrolling Mario being separate things. Super Mario 3D Land combines the two, and it works well. If you own a 3DS, you should likely get this game. It'll last you a long time, and it's a great new Mario game."
Three years later, Neal looked back on the game and said the following:
"I think I actually like Super Mario 3D Land now more than I did when I reviewed it in 2011. At the time, I really adored the smart portable design and excellent use of 3D. Now, looking back and comparing it where the Mario series went after 3D Land in New Super Mario Bros. 2/U and 3D World, I like 3D Land even more. It's my favorite Mario game since Galaxy and easily one of my favorite Mario games ever."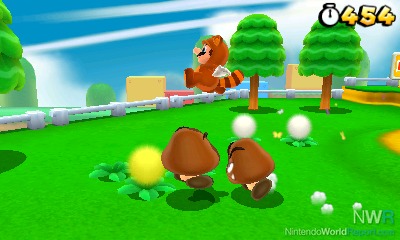 ---

Alex Culafi, Associate Editor: Super Mario 3D Land is, hands down, my favorite game on 3DS. Combining tight 3D Mario gameplay with 2D Mario sensibilities is an excellent enough idea, but EAD Tokyo truly earns their grand slam with a plethora of content, a refreshingly brisk level structure, and new types of 3D-powered level design never before possible on any other system or Mario game. It's simple and pure in a way Nintendo games haven't been in a very long time, and as far as I'm concerned, it is one of Mario's finest outings.
---

J.P. Corbran, Community Manager: In my mind, 3D Land was the natural evolution of the trajectory EAD Tokyo was on with the Galaxy games. While it lacked the high presentation values of those titles, its level designs were as excellent as its predecessors, and its art style, while simple, was very evocative of the roots of the franchise. The only criticism I can see is that its successor, 3D World, was a more expansive and fleshed out version of the same formula. To this day, I'd call it the best game on the 3DS, and one of my favorites of all time.
---

John Rairdin, Associate Editor: I would never have imagined that a handheld Mario game could hold up to Galaxy, but they did it. The handheld environment was the perfect place for EAD Tokyo to try out their bold new vision of Mario. While 3D World was a great game, I'd still say that 3D Land is the best incarnation of this version of 3D Mario because its short play structure is perfectly suited to a handheld.
---

Curtis Bonds, Associate Editor: I wasn't sure what to expect out of Super Mario 3D Land when it was first coming out. I was excited to finally have a portable 3D Mario game that wasn't a remake, but at the same time, it looked like it didn't really have a central theme like Sunshine and Galaxy did. Thankfully, what I got was something I didn't know I wanted: a game that really puts your platforming skills to the test.
Having every world not have a specific theme/trope tied to it allowed each level to have its own unique twist and challenge. It gave me a feeling of not knowing what to expect next, and kept me on my toes. Couple that with the extra worlds and challenges that open up once you complete the game, and this is one of the best portable Mario games to date.
---
And lastly, Alex and J.P. got together and recorded a discussion of the game. Enjoy!