It's another extremely solid week on the download front in Japan.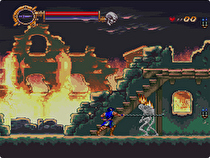 The eShop in Japan is experiencing another busy week with a bevy of downloadable titles on both the Nintendo 3DS and Wii U. While Famicom Remix 2 is the head-liner for the Wii U download titles this week, that didn't stop the likes of Mega Man 5, Castlevania: Dracula X, and the Japan only Quarth from making appearances.
The 3DS line-up might have a few weak entries, but it is more than made up for with Square Enix's rhythm series, Theatrhythm Final Fantasy: Curtain Call and newest 3D classic from Sega, 3D OutRun. Heck, even more Final Fantasy snuck in on the 3DS Virtual Console this week with Final Fantasy III, the last Famicom era Final Fantasy title to hit the service. On top of all this, there are a few new demos, digital comics (well, one this week), and pet simulators. For a complete look at this week's round-up of releases on the eShop in Japan, check out the list below!
3DS
Downloadable Titles
Gakki de Asobo Tanoshi Dōyō (1) - 100 yen
Slice It! - 500 yen
3D OutRun - 823 yen
Dokopon Choice Ōkami to Kōshinryō Vol. 1 1 - 5-kan Pack - 3,100 yen
Puchi Novel - Seiran no Shi-gatsu - 200 yen
Penguin Pet 3D - 500 yen
Guru Guru Tamagochi (retail title) - 5,119 yen (from 4/24)
Theatrhythm Final Fantasy: Curtain Call (retail title) - 4,800 yen (from 4/24)
JS Girl Doki Doki Model Challenge (retail title) - 5,184 yen (from 4/24)
Dasshutsu Adventure Shiawase no Akai Ishi DEMO - FREE
World Soccer Winning Eleven 2014 Aoiki Samurai no Chōsen DEMO - FREE
Virtual Console
Final Fantasy III (Famicom) - 514 yen
Wii U
Downloadable Titles
Famicom Remix 2 - 1,543 yen
Virtual Console
Rockman 5: Blues no Wana!? (Mega Man 5, Famicom) - 514 yen
Akumajō Dracula XX (Castlevania: Dracula X, Super Famicom) - 823 yen
Quarth (MSX) - 823 yen