Fancy venue plus communal beer keg equals one heck of a night.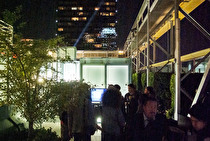 Last week I headed over to downtown Los Angeles to check out the Media Indie Exchange event on the rooftop of TENTEN Wilshire. Featuring over 20 games, the event was created by indie enthusiast John Polson and developer Justin Woodward. The MIX was formerly known as the Indie Press Mixer.
The MIX 2013 included demos of games releasing for all types of systems with their developers always nearby to answer any questions or listen to feedback. The event was calm and casual, a nice change from the frantic meetings of E3 and other conventions, giving press and developers a chance to mingle and talk about their games over some snacks or the slightly hidden, yet insanely popular beer keg. After checking in, our "ticket" into the rooftop actually was a red solo cup specifically for the beer, so the hunt was on.
Keeping up with the party atmosphere was a raffle you could score tickets for every time you played a game that would be releasing on Steam. The prize? $200 worth of gift cards for anything you could desire from the platform. Our very own photographer for the event, Kristine Keller, beat the odds and actually won the whole prize, prompting us to send her back to work taking photos of the event, so make sure you check those out in the gallery below!
While many games had stretch goals for different Nintendo systems, three in particular had their sights firmly set on the Wii U or 3DS. They were Aban Hawkins and the 1,001 Spikes from NICALiS, Hyper Light Drifter from Heart Machine Games, and the infamous Shovel Knight from Yacht Club Games. I was able to get an awesome amount of demo time with each, so look forward to their upcoming game impressions soon!
Photos by Kristine Keller.