We have seen Link on boats, trains, and birds. Now all we need is to see him in outer space!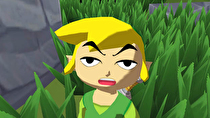 The Legend of Zelda: The Wind Waker HD is the main attraction of this week's releases. Join Link on the Great Sea where there are no government rules and you can party like it's 2003. What an exciting week to be a GameCube, um... I mean Wii U owner.
---
Wii U
The Legend of Zelda: The Wind Waker HD - $49.99, October 4
In order to stay relevant and to sell systems, Nintendo is releasing a new HD remake of The Wind Waker. Wind Waker HD was declared the best Zelda game by the staff here at this fine website, and our own Site Director gave the new HD version a 10. If you have never played this game, like me, you should probably pick it up.
---
3DS
Etrian Odyssey Untold: The Millennium Girl - $39.99, October 1
This remake of the original Etrian Odyssey is optimized for the 3DS with 3D graphics and new music. Resident Texan and NWR editor Justin Baker reviewed the game, so for his sake, read it.
Rune Factory 4 - $39.99, October 1
This sequel to the Harvest Moon spin-off series finds stuff happening to things. Honestly, I have no clue what goes on in these games and if I didn't write for this site I wouldn't look it up. However, according to the Internets it involves amnesia, monsters, and relationships. Sound interesting?
---
That is it for this week. Looks like I'm done with this one. Be sure to stick around for more fun with all your video game pals!