Just over six months after release, how does Layton's 3D debut hold up?
The Professor Layton series is one that has proved to be a favorite among casual and hardcore Nintendo fans. The mix of storytelling and literal puzzle-solving is unique to the franchise. As the game moved to the 3DS with its fifth installment, many were unsure how the art style and puzzles would be affected. Professor Layton and the Miracle Mask had a lot on its shoulders, bringing the series to a new handheld system with improved graphical abilities.
In his review last October, Managing Editor Nate Andrews talked about the art style: "Character models look superb in both polygonal and stereoscopic 3D as they converse and sort out situations among themselves on the top screen with natural expressiveness and gesticulation." As to the puzzles, Nate noted "It's better that puzzle experiences be consistently interesting, challenging, and rewarding on a small scale. As with its predecessors, Miracle Mask seems to adhere to this policy, using dozens upon dozens of these devious activities to support its other, mostly interesting ventures." Nate gave the game an 8.0 in his review.
We've now turned to the other members of the Nintendo World Report staff, some six months after the game's initial release. Collected below is a sampling of mini-reviews for Professor Layton and the Miracle Mask.
You can also check out our previous Review Revisits for Gunman Clive, Paper Mario: Sticker Star, and Fluidity: Spin Cycle! Is there another recent release you'd like to see be revisited? Hit us up in the comments with your suggestions!
---

Review from James Jones, Senior Editor
I've played every Layton game to the point of total completion - often over the course of a weekend. I adore the series for its artistic style, its insane story-telling, its great characters and mysterious world, and of course its puzzles and exploration. With all that said, Miracle Mask is the game I care for the least in the series. While the 3D models of the characters are really nice looking and delving into the world of the Azran was exciting, I found the new system of moving around the world to be cumbersome and the puzzles in need of refreshing. Miracle Mask is a good game, and there's still more joy for me in the Layton franchise to be had, but some issues need to be addressed before Professor Layton and The Azran Legacy is released.
---

Review from Justin Berube, Staff Writer
If you have played a Professor Layton game before, then you know what to expect. Some have said the series is getting stale, and I can't really argue against that, however the puzzles in Miracle Mask are as fun and addictive as ever so the formula is doing something right. Like the previous Layton titles, Miracle Mask offers downloadable puzzles, but in this installment, a new puzzle is added every day for the first 365 days after the title's release. This arguably makes Miracle Mask the meatiest Layton game yet. The only real negative to the entire experience is that it has the weakest story in the series, only becoming interesting at the end. That said, the ending got me excited to play the next, and final, Layton game. Despite the game's minor problems, the core gameplay had me hooked and I couldn't put it down.
---

Review from Tyler Ohlew, Features Editor
Miracle Mask is likely to make a fool of me. In enjoying this title, I'm approving of its stylistic enhancements, but also its willingness to join the 3DS fray without any major changes to its formula. However, in my defense this installment of Layton remains just as fun as previous entries. If you've stuck with the franchise this long, it's not due to any sort of bold take on any particular genre. It merely delivers a solid puzzle game, one that entertains with its breezy atmosphere as much as the challenges within. The story remains as goofy as ever, and is told by a beautiful cast of characters. To further discredit any claims that I'm superficial, I'd argue that placing an emphasis on the upper, 3D-enabled screen slows down navigation, and searching the scenery for coins and puzzles isn't as intuitive as it was on the DS.
Even without the transition to polygons, this remains a solid effort. I know what I want from the Layton series, and I'm more than fulfilled with these results.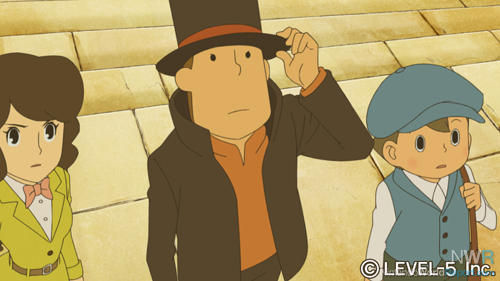 ---

Review from Patrick Barnett, News Editor
All four Professor Layton entries on the Nintendo DS remained primarily the same. The mechanics, while always evolving and changing, often grew stale. This 5th Professor Layton title made the jump to 3D and changed the formula just ever so slightly to bring new life into the aging professor. The story was cleverly written as always yielding a great sense of adventure and curiosity. The city is now portrayed in gorgeous 3D rather than static 2D images. Puzzles make use of the 3D environment to make old Layton classics feel new again. Unfortunately, where the game tries to be the most different it fails to be fun. New dungeon exploring mechanics are terribly boring, yielding some of the worst Layton gameplay in all 5 games so far. Layton fans should for sure check out the Professors latest adventure, but be warned it is not the best in the series so far.
---

Review from Neal Ronaghan, Site Director
My experience with Layton's fifth adventure is a weird one. I enjoyed it, but I found it hard to find a compelling reason to finish it. After devouring the series' first three games, driving forward in Last Specter and Miracle Mask has been somewhat of a chore, to the point where I still haven't finished Miracle Mask (even with the carrot of this feature at the end of the stick). Even with the new additions, whether it's the improved movement controls or the interesting late-game gameplay twist, I just can't find a drive to follow through with the story, and I've heard tantalizing teases about a dope cliffhanger that set up the sixth entry fantastically. And it's so weird, because I really like the improvements. I just have a nagging feeling that maybe everyone was right; maybe this series needs to change itself up more to reinvent itself, and a graphical embellishment and a token secondary gameplay mechanic won't cut it. I expect to polish this game up before Azran Legacy comes out in 2014, but that will be more out of obligation than out of sheer desire.
---
So now we turn it to you: what did you think about Layton's 3D debut? Share it in the comments and we might use it for a follow-up to this feature! Also, stay tuned for our next Review Revisit on Little Inferno, and shortly thereafter, 999.