Virtual Console ahoy!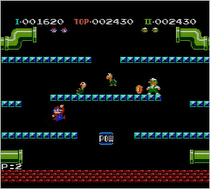 The Virtual Console is continuing to see a healthy release flow on the Nintendo 3DS, as well as on the Wii U with a handful of new releases. If you're a fan of the original Mario Bros., Kirby, or classic arcade shooters, you are definitely in luck. Here's what was released this week on both eShops:
3DS
Downloadable Titles
Korokesu - 500 yen
Sweet Rendezvous Saruppa - 600 yen (World 4 DLC +100 yen)
Maru Gōkaku! Ōyōjōhō Gijutsusha Shiken - 2,800 yen
Maru Gōkaku! Kihon Jōhō Gijutsusha Shiken - 2,800 yen
Virtual Console
Mario Bros. (Famicom) - 500 yen
Gradius (Famicom) - 500 yen
Wii U
Virtual Console
Kirby no Kirakira Kids (Super Famicom) - 800 yen
Kirby Bowl (Kirby's Dream Course, Super Famicom) - 800 yen
Hoshi no Kirby 3 (Kirby's Dream Land 3, Super Famicom) - 800 yen
Video Content
What would an update to the eShop be without some videos? Well, there's not a ton to write home about this week, but, as usual, there are videos for all of the titles listed above. Kirby is in full force on the Wii U with three titles and even the original Mario Bros. is getting some love. In case you are wondering, the Maru Gōkaku titles above are educational software that are used for studying for tests related to Information Technology.
Atlus has also showed off another preview video for the upcoming Shin Megami Tensei IV, which they are set to release in Japan on May 23 and then in the West later this year. The video is a preview video that shows off gameplay, including navigating the game world as well as the battle system. The world appears to be realized in full 3D with the battles taking place from a 2D, first person perspective. On top of that, Capcom provided three new videos for the Wii U version of Biohazard: Revelations.