If you like "kuso ge-," the game that coined the term, Ikki, along with Ghosts'n Goblins and more are available now in Japan!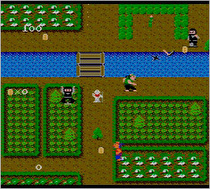 A few cool titles have made their way to downloadable Nintendo platforms. Heck, there is even one that was dubbed the first "kuso-ge-" (crap game) by a Japanese essayist. The game in question is the Famicom version of Ikki, a top-down, multi-direction scrolling action game set in medieval Japan. The village where the main character, Gonbe, lives is planning a revolt against the powers that be. For some reason, only Gonbe and his trusty friend go through with it, which puts you, the player, literally against an army. If that's not your thing, here is a list of everything hitting the eShop this week:
3DS
Downloadable Titles
Crazy Kangaroo - 200 yen
Nikaku de Susshi - 400 yen
Medalot 7 (Kabuto & Kuwagata Ver., retail title) - 6,090 yen
Virtual Console
Ikki (Famicom) - 500 yen
Makaimura (Ghosts 'n Goblins, Famicom) - 500 yen
Wii U
Downloadable Software
Wii Street U Powered by Google (02/07 release) - FREE until May 31
Video Content
A few new videos hit the eShop this week on both the 3DS and Wii U. These include game preview videos for Crazy Kangaroo, Nikaku de Susshi (a puzzle game where you make your customers eat sushi by matching the corresponding pieces on the touch screen), Professor Layton and the Miracle Mask Plus, Osawari Tantei Nameko Dai Hanshoku (a puzzle game based on super-popular mushroom-based characters) as well as a television commercial for Professor Layton and the Azran Legacies. Of the handful of videos that hit the eShop this week, the most intriguing was one included for the upcoming Nintendo 3DS title, Dragon Ball Heroes: Ultimate Mission. At its heart, the game is a card battler that uses the plethora of characters from the Dragon Ball universe. You'll see familiar faces like Goku, Piccolo, Frieza, and even some more slightly obscure characters, such as Bardock, Cooler, Nail, and tons of others. The game features a five-on-five battle mode, a story mode, and even has StreetPass support that allows you to receive cards. Be sure to check out the video below for all the details.