Tons of retail games, a skateboarding cat simulator, a cheating boyfriend crime scene game, and more craziness hit the eShop in Japan!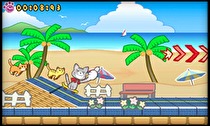 We have lots of stuff hitting the eShop in Japan today, including myriad retail titles, downloadables, and a few Virtual Console games. Here's a complete look at what hit this week:
Nintendo 3DS
Downloadable titles
Culdept (retail title) - 4,800 yen
Nintendogs + Cats (retail title, all three versions) - 4,800 yen each
Fire Emblem: Kakusei (retail title, Fire Emblem: Awakening) - 4,800 yen
Calcio Bit (retail title) - 4,800 yen
Super Pokémon Scramble (retail title) - 4,800 yen
Tantei Jingūji Saburō: Fukushū no Rondo (retail game, coming 01/31) - 4,200 yen
@Simple DL Series Vol. 7 The Uwaki Kareshi - Totsugeki! Uwaki Genba - 300 yen
Peakvox Myu Myu Train - 500 yen
Virtual Console
Madura no Tsubasa (Famicom, The Wing of Madoola) - 500 yen
Puyo Puyo (Game Gear) - 300 yen
Wii U
Downloadable Titles
Shin Hokuto Musō (Fist of the North Star: Ken's Rage 2, retail title) - 7,100 yen
Video Content
We have a couple new videos on the eShop today. First up, we have a new video for the riciuslously over the top Chari Sō DX, which is slightly different from the previous video a few weeks ago. This time, the video highlights the different game modes, such as World Tour, Grand Prix (which is an "endless mode," stopping only when the player crashes) and acid-inducing platforming stages with music from Ram Rider.
For those interested in the latest chibi-fied Blazblue beat-'em-up for the 3DS in Japan, there is a new preview video available on the Wii U eShop. The video shows off the characters, game types, and quite a bit of footage, all with some pretty rad '80s-style guitar music playing in the background. If you want to hear more about the game, check out the latest episode of The Famicast and Daan's New Business.
The latest entry in the Simple Series on the 3DS also got a video to help explain what the heck the game is about. From what I could tell from the video and the title (which could translate to "Cheating Boyfriend! Assault! Crime Scene!"), you play as a girl who has basically discovered that her boyfriend is cheating on her. You then can apparently fight him, throwing things like a misplaced love letter at him to take down his health. It looks crazy, and you bleeding heart types out there probably don't want to miss it!
The crazy side-scrolling skateboarding cat adventure, Myu Myu Train has a couple videos (with one in 3D on the 3DS) showing off the first stage of the game. Gameplay is simple—the stage is constantly scrolling to the right, and it's your job as a cat on a skateboard to nab various collectibles and make your way to the end of the stage without falling into pits or getting hurt. The game even makes use of Miis and allows players to put their characters into the game while wearing a cat helmet. It's incredibly wacky looking, and only 500 yen! Keep your fingers crossed for this crazy cat skateboarding simulator to come to your region!