Akemashite Omedetō! Super Mario Bros 3 for the Famicom helps bring in the new year in Japan!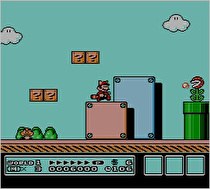 Akemashite Omedetō, or Happy New Year to all of you out there who don't speak Japanese! 2013 is upon us and even though Nintendo has a somewhat limited eShop update this week, one of the greatest titles of all time is now available on the Nintendo 3DS eShop! Here's a look at everything for this week:
3DS
Virtual Console
Super Mario Bros. 3 (Famicom) – 500 yen
Video Content and eShop Sales
As I mentioned above, this is really a minimal update for the eShop in Japan seeing as many people are enjoying the New Year's holiday with their families. This still didn't stop Nintendo from delivering a short gameplay video for Super Mario Bros. 3 and for implementing a number of sales on the eShop this week. As we reported last week, three titles are now discounted on the eShop – Denpan Ningen no RPG 2 for 700 yen (from 1,000 yen), Rhythm Hunter: HarmoKnight is now 1,300 yen (from 1,800 yen), and 3D Classics Kirby's Adventure is 400 yen (from 600 yen). This particular sale will run until January 6 at 11:59 p.m. Pokédex 3D Pro is also on sale in Japan until January 8 at 11:59 p.m. for 1,200 yen (from 1,500 yen).
Arc System Works is also getting into the mix with a sale on a few of their titles as well. Here is a list of the titles for sale:
Arc Style: Simple Mahjong 3D – 350 yen
Arc Style: San Goku Shi Pinball – 500 yen
Arc Style: Joshi Soccer 3D!! – 350 yen
Okiraku Daifugō 3D – 200 yen
Okiraku Kart 3D – 350 yen
Dasshutsu Adventure Kyū Kōsha no Shōjo – 600 yen
Otegaru Puzzle Series Alice to Mahō no Trump – 350 yen
Takagari Ō (Falconry King) – 500 yen