Care to take a dip with birds in 3D?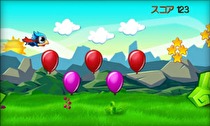 It's another busy week for the eShop in Japan... well, at least for the Nintendo 3DS, which sees several big releases, including Fluidity: Spin Cycle, Bird Mania 3D, Project X Zone (in free demo form!), and a few others. The Wii U might not have any new download specific content this week, but retail games are still coming to the service. Here is a look at everything for this week:
3DS
3DS Downloadable Titles
Project X Zone DEMO (Version A and Version B) – FREE
Gurutoo Splash (Fluidity: Spin Cycle) – 1,200 yen
Dasshutsu Adventure Majo no Sumu Yakata – 800 yen
Bird Mania 3D – 200 yen
peakvox RiRiRhythm (Peakvox Really Rhythm) – 500 yen
Tongari Bōshi to Mahō no Machi (retail title) – 4,980 yen
Nicola Kanshū Model Oshare Audition Platinum (retail game) – 5,980 yen
Virtual Console
Spelunker (Famicom) – 500 yen
Doruāga no Tō (The Tower of Druaga, Famicom) – 500 yen
Wii U
Wii U Downloadable Titles
Simple Series for Wii U Vol. 1: The Family Party (retail title) – 2.940 yen
Sports Connection (retail title) – 4,200 yen
Video Content
In what is becoming the standard here in Japan, Nintendo released a Chotto Nintendo Direct for Dragon Quest X. The entire 10-minute Direct (which you can view below) along with a video detailing the latest update for Dragon Quest X on the Wii to version 1.2, is also available for Japanese gamers' pleasure. Aside from that, the video sector is a little bit quiet this week with a gameplay video for Fluidity: Spin Cycle and Dasshutsu Adventure Majo no Sumu Yakata from Arc System Works.