These capsule toys give Kinder Surprise a run for their money.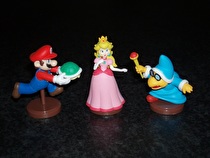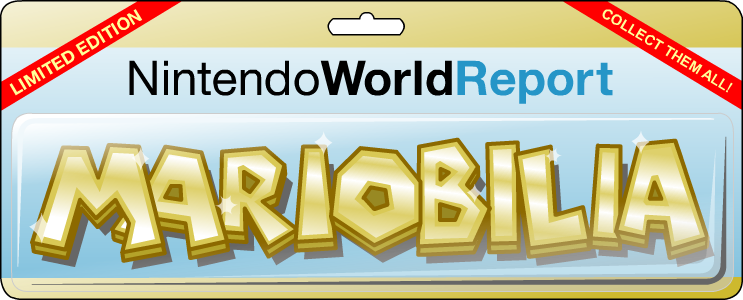 Welcome back to my Mariobilia segment! This week I'd like to show off some particularly cool and very collectible little figurines.

Japanese candy company Furuta runs a particular line of capsule toys that come contained within a chocolate egg, not unlike the European Kinder Surprise treats. These Choco Egg toys come in a huge variety of collections, ranging from animals and insects to Disney characters, vehicles and spacecraft.
Of course, the figures I've been most interested in were the recent sets of Super Mario Bros characters.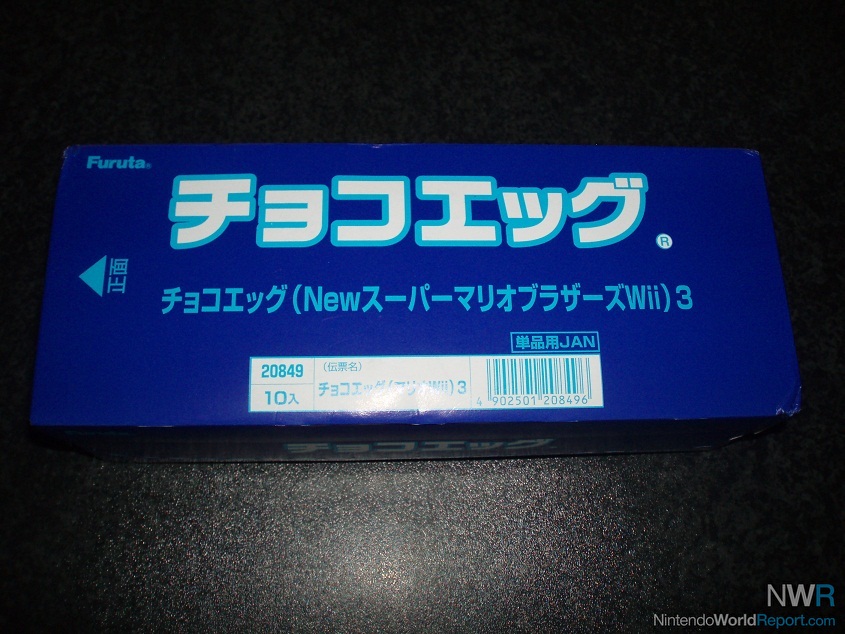 The Japanese text reads "Choco Egg", "Choco Egg (New Super Mario Bros Wii)"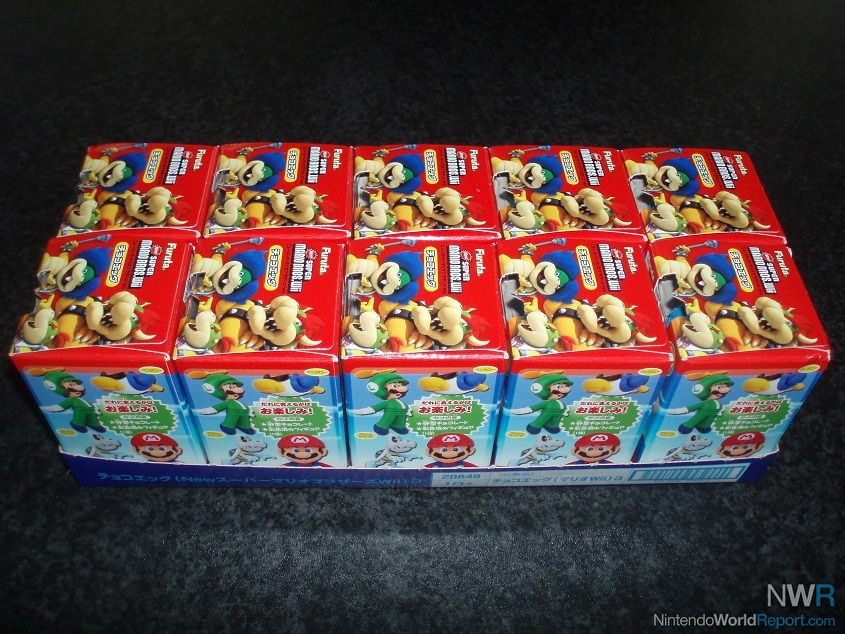 How they appear on store shelves. So enticing!

The eggs come in bulk packs of 10, factory-sealed together in little shipping boxes so they can be opened up and displayed on supermarket shelves. The above box contains eggs from the "New Super Mario Bros. Wii Series 3" series, the latest set and 6th series since Furuta began making Mario figures back in 2007.
The treats are reasonably affordable, roughly equating to about $5 each. The catch is that the figures are random, you don't know which one you'll get until you open it up. Therein lies half the fun, though!
Of course, overseas collectors should expect to pay more than the going rate, and some of the rarer figures can fetch considerably high prices online.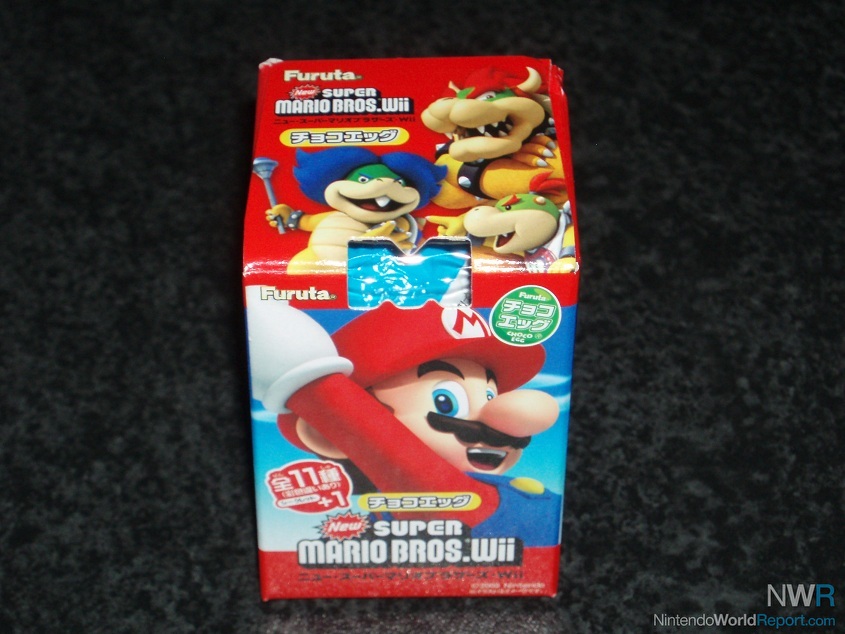 An individual box. Which character will be inside?

When you open one up, you're greeted by a charming little chocolate egg wrapped in foil bearing the company logo. The chocolate itself is two-toned milk and white, but like many Japanese confections it's not quite as sweet as Western chocolate and tastes more of cocoa. I actually quite like it.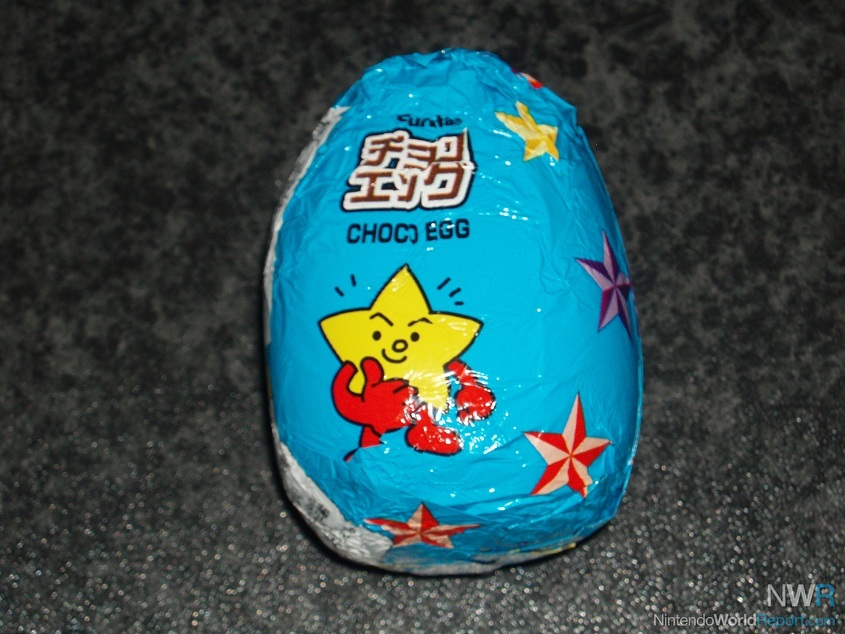 The egg.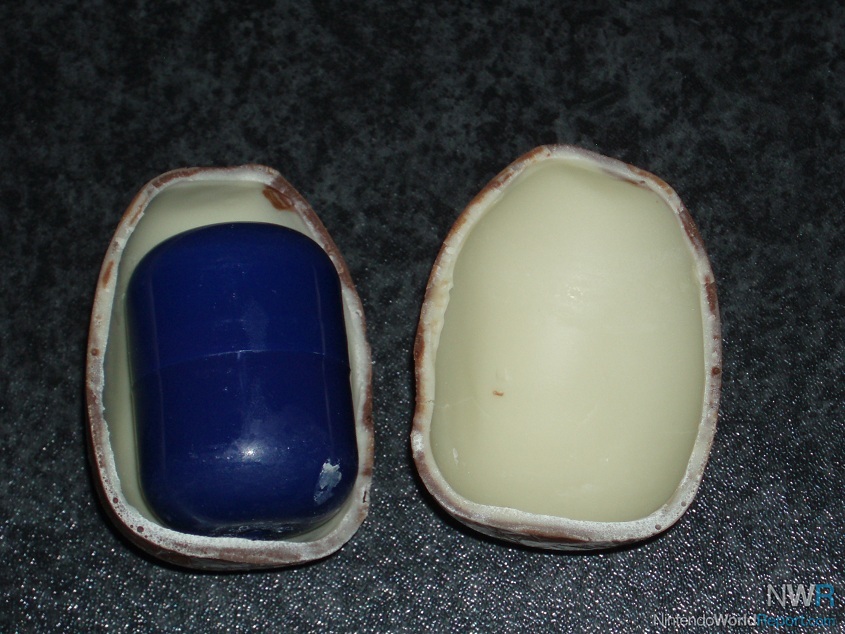 After traveling through the mail, the chocolate was a little dried out. Still edible though!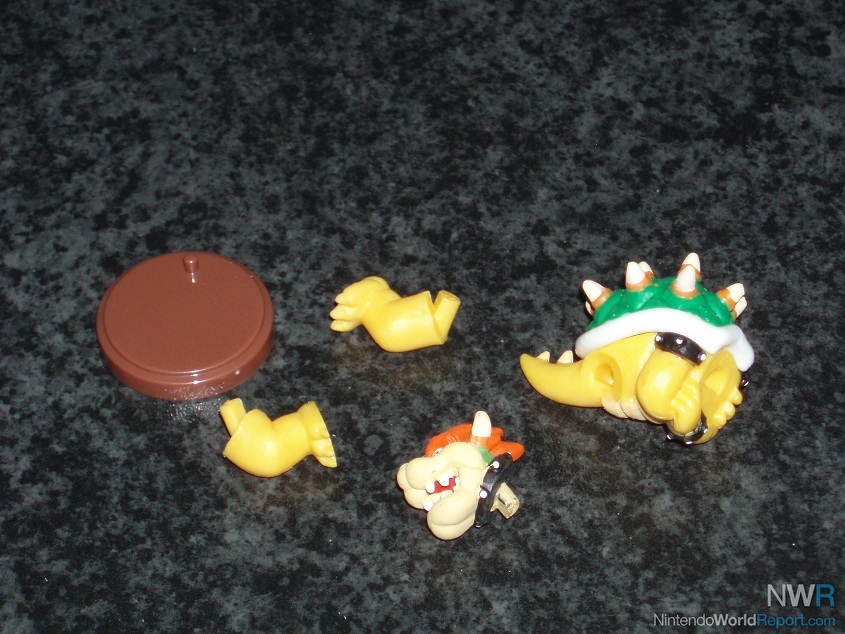 My first figure in the latest set was Bowser. How appropriate!

Inside the egg is a little plastic capsule containing the figurine in small pieces, which must then be assembled. You'll also get a sheet showing assembly instructions, the figure's checklist number and list of all the other figures in that particular set. The figurines are made of a rubbery kind of plastic that's slightly bendable, I suspect it's easier to pack the tiny pieces into the capsules that way. Almost all of them also come with a little hard plastic pedestal to stand them on so they don't fall over, a great touch.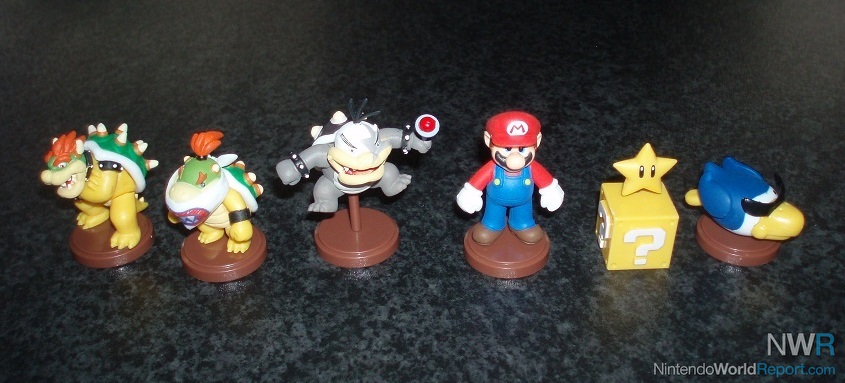 In this box of 10, I got 6 new figures.

I started collecting the Furuta figures at the release of the 4th series - the first set based on New Super Mario Bros. Wii - after discovering that the set featured the Koopalings, some of my favorite characters in the Mario series. I'd longed to see some good merchandise of these guys for years! Since then I've followed the next two series and scraped together some of the characters from the earlier series.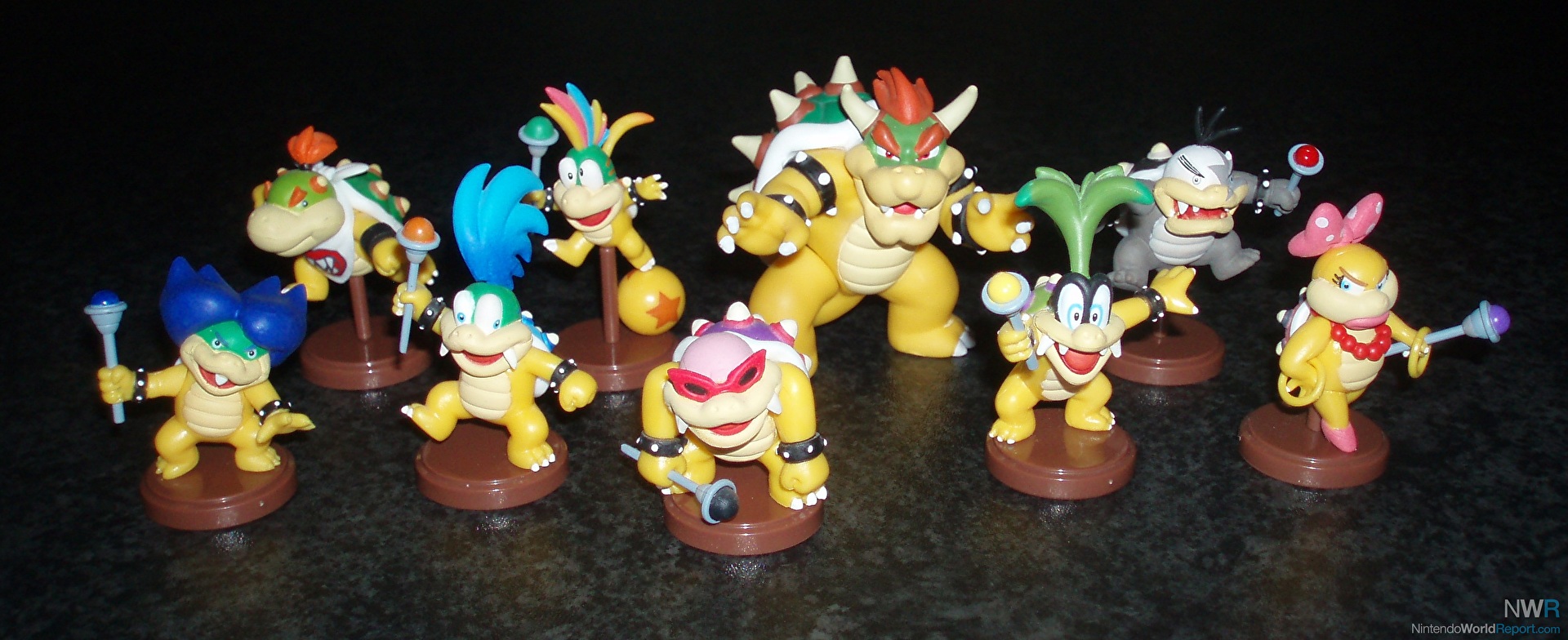 The Bowser here is from a different capsule toy series. But look how well they go together!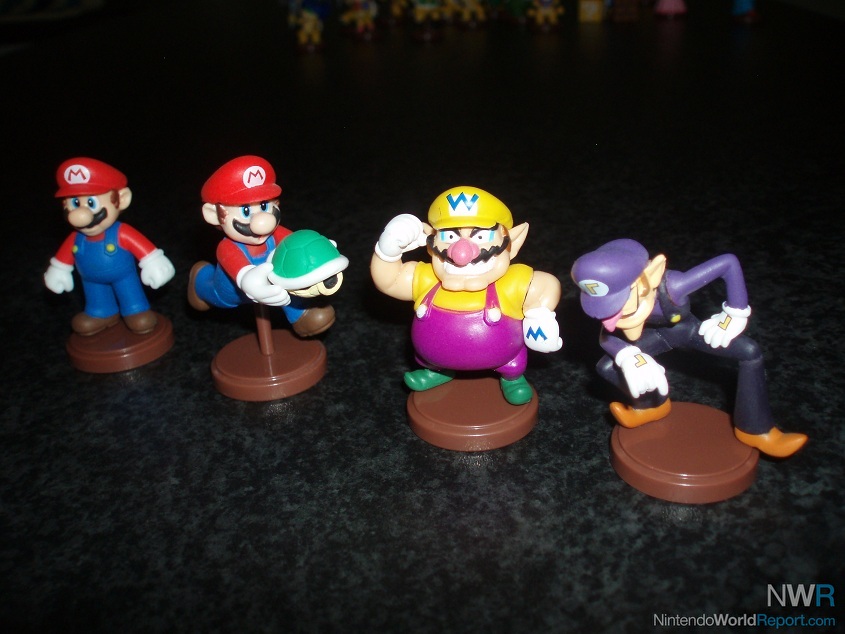 Some of the earlier figurines.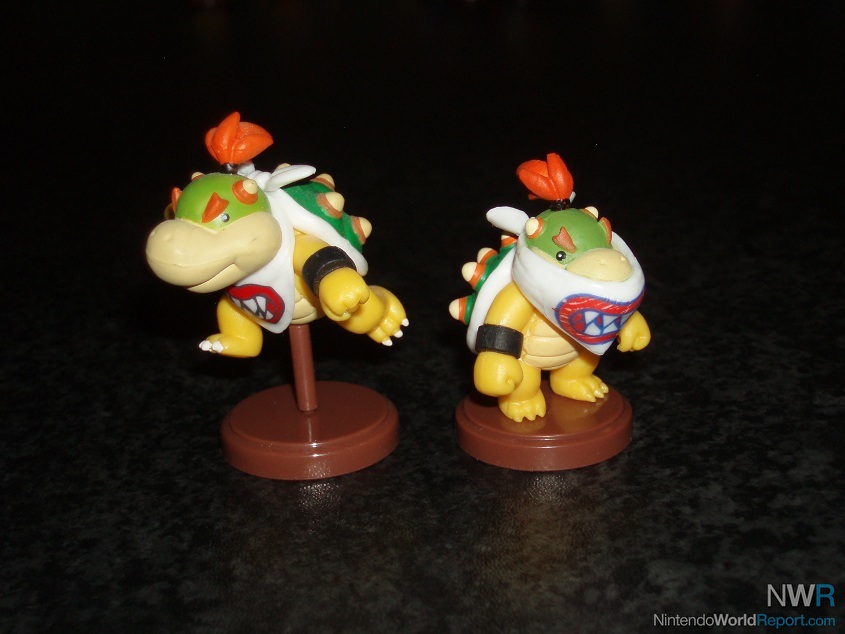 Bowser Jr. from series 1 and 6, side by side.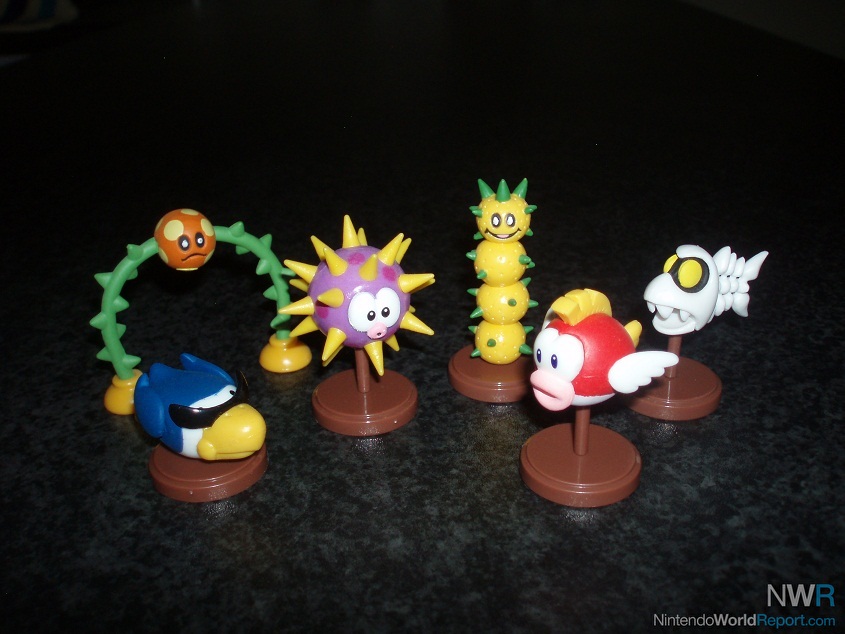 Aquatic and plant enemies.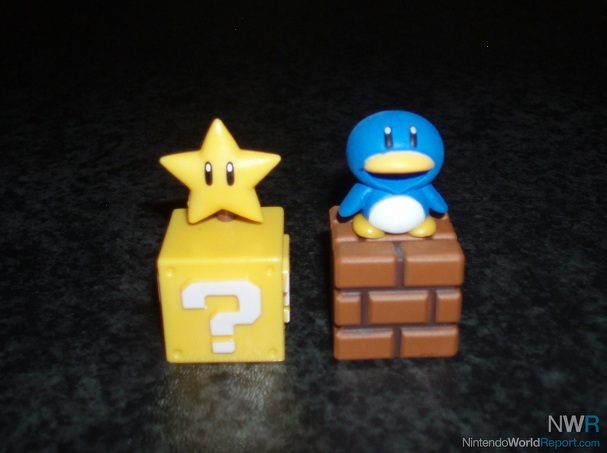 Each of the series also features one Mario block with an item.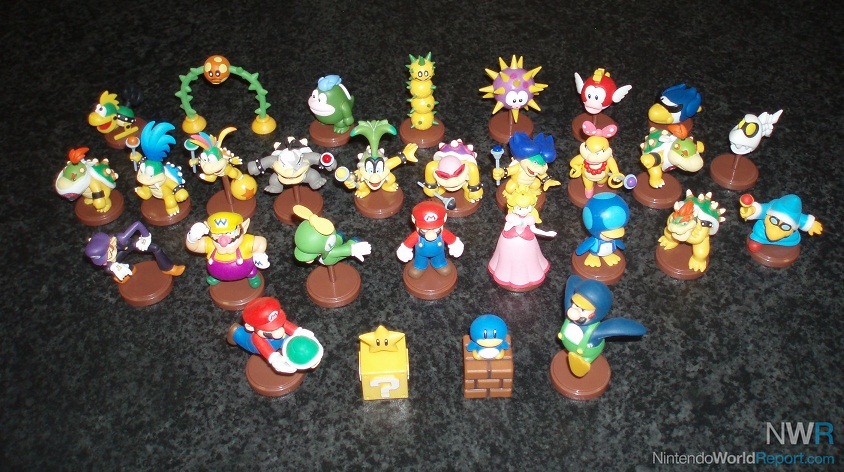 My complete collection. Since taking the photo I also obtained Dry Bones.

Considering the physical size of the figurines, the detail is impeccable. Sometimes the odd figure will have some slightly unaligned paint here and there, but the sculpt looks just like the characters and the colors are spot-on. They look really nice displayed on a shelf or a PC monitor stand. Another great point is that the Furuta line of figures covers a huge range of characters from the series as a whole, including some often overlooked characters. Hammer Bros? Waluigi? Dry Bones? There are even figures of Baby Mario, Luigi and Peach - the only non-sport, non-spinoff game they appeared in was Yoshi's Island DS!
Each set so far has also come with some rare recolors, such as a green 1-up Mushroom, a red Koopa Troopa or an alternate Yoshi color, and a secret figure.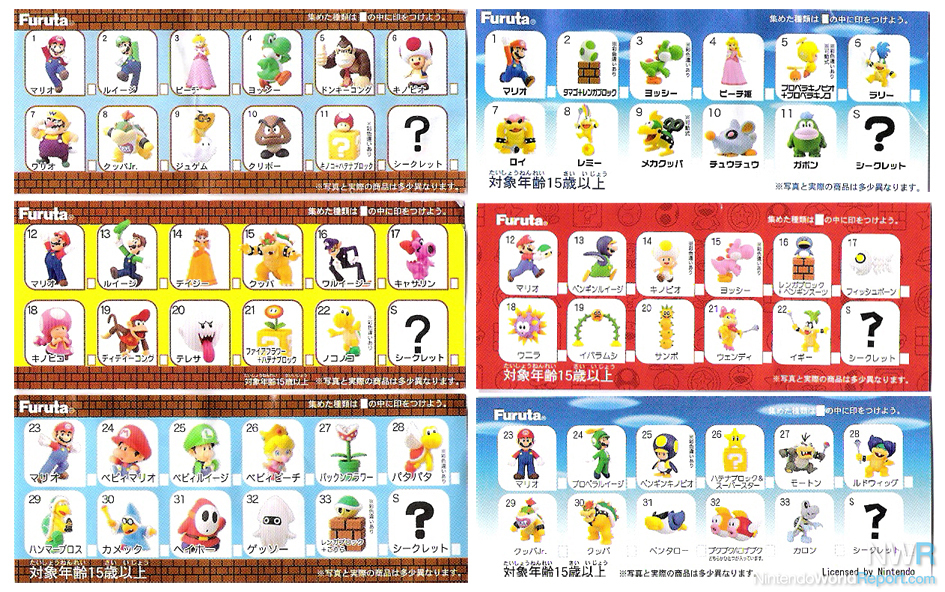 The complete checklist from each series thus far.

I have to say, these figures are a wonderful representation of the Mario cast, and the huge range make them perfect for trading amongst collectors. They are without a doubt my favorite line of Nintendo-related figurines and I'll certainly be trying to hunt down more from the sets I missed. As a warning - collectors should beware of bootlegs, and of course - I wouldn't recommend eating the chocolate if you get any of the series released last year or earlier. Check the best-before date if you're lucky enough to find these in any import Asian groceries.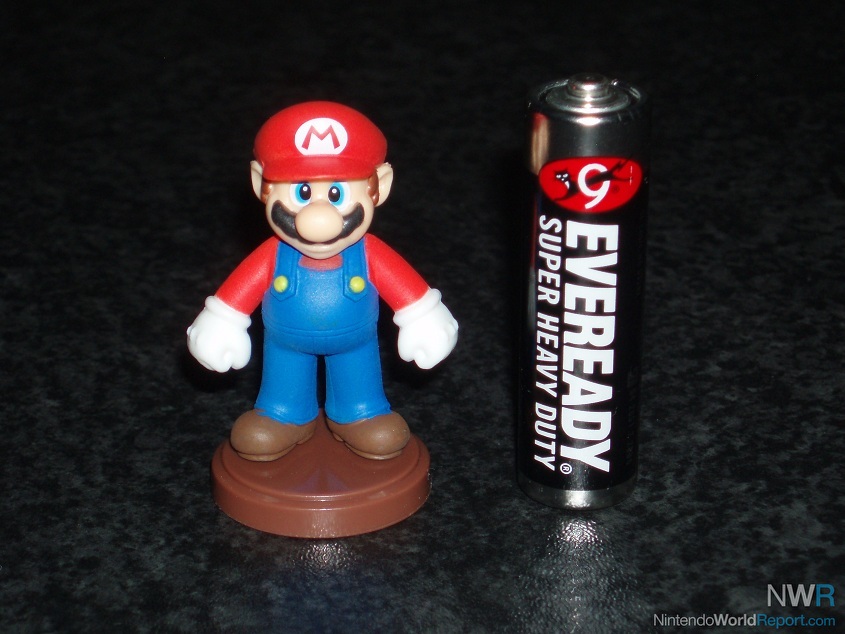 A size comparison, these things are tiny!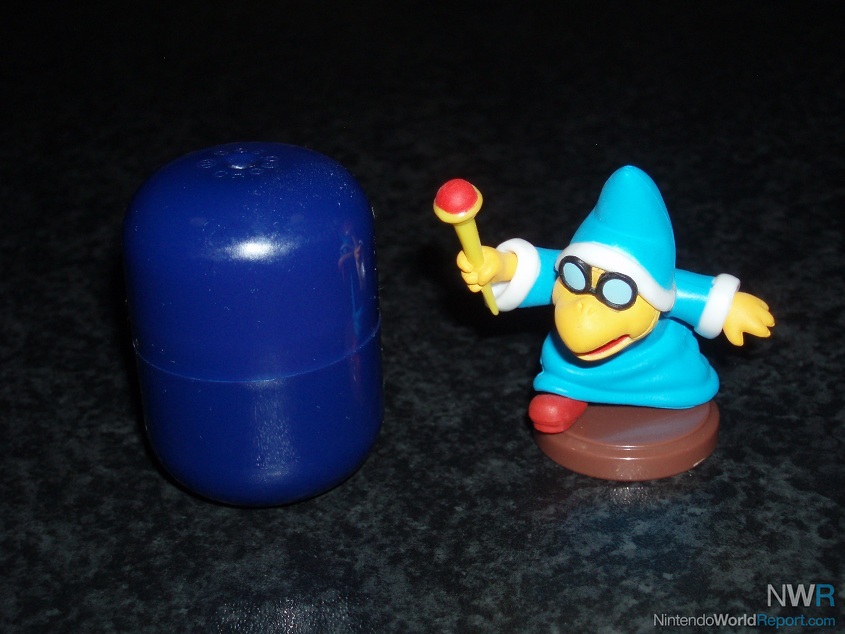 After assembly the figures are usually slightly bigger than the capsule.

There's a new series coming in a few months, which seems to be a selection from earlier sets with a new secret figure. I can only hope Furuta continues to expand this line, I'd love to see a Spiny or a Thwomp make an appearance in future sets.
In any case, thanks for reading and check out a few more photos in the gallery below. In the next Mariobilia I'll be showcasing the new Link Figma action figure that just released in Japan, look forward to my writeup!

Until then, does anyone want to trade spare figures?