Mega Man, Suda 51, Sonic Drift with local multiplayer, a Naruto demo, and more on the eShop this week.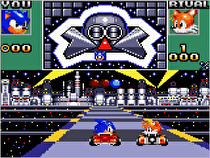 Lots of cool titles came out this week on the eShop in Japan, including some love from Suda 51 with a digital version of Liberation Maiden, a demo for the upcoming Naruto SD Powerful Shippuden, Sonic Drift 2 with local multiplayer, and more stuff. Oh, and in the videos, there is even an offhand mention of "Super Wii." Here's a breakdown of everything from this week:
3DS Download Software
@SIMPLE DL Series Vol. 6 THE Misshitsu kara no Dasshutsu - Asobi no Tengoku Kumadonarubōru hen – 500 yen
Kaihō Shōjō (Liberation Maiden) – 800 yen
Maido Hanafuda – 500 yen
Naruto SD Powerful Shippuden DEMO – FREE
Virtual Console
Star Soldier (Famicom) – 500 yen
Rockman 5 Blues no Wana (Mega Man 5, Famicom) – 500 yen
Sonic Drift 2 (Game Gear) – 300 yen
Video Content
With the Nintendo Direct event last week, Nintendo has put the entire conference up on the eShop. Commercials highlighting New Super Mario Bros. U and Monster Hunter 3 Ultimate are also now available to view. Interestingly, I noticed a commercial for the Wii U in which the whole "Super Wii" mantra made an appearance. The commercial, which is more or less an introduction to the Wii U, starts out by saying that this new console is essentially a "Super Wii" and then goes on to talk about the console's features.
As I mentioned above, Monster Hunter 3 Ultimate for Wii U has definitely been getting some love this week, with a few new commercials appearing on the eShop. A new preview video also talks about the differences between it and the handheld version, mentioning things such as online play and the HD graphics, as well as the connectivity options players have with both games. Monster Hunter 3 Ultimate for Wii U is scheduled to release December 8 in Japan at the Wii U launch.