Tempers rise and friendships die as we opine on the best Mario RPG.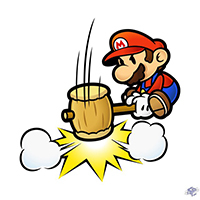 With so many unique stripes of Mario RPG from which to pick, it's no surprise that we each have different choices and reasons for a favorite.
From the humble origins of Super Mario RPG, through the ongoing, (literally) two-dimensional journeys of the Paper Mario series, and the sly, brotherly co-op of the Mario & Luigi games, there's a lot to like (and sometimes dislike). Read along as the staff sounds off on what the best Mario RPG may be, and leave your own analysis below!
Alex "Chucklehuck" Culafi
TTYD is one of the best games* ever made...
Andy "Mushroom Boy" Goergen
... *novels.
Patrick "Bowletta" Barnett
Mario & Luigi is fast paced, fun, and charming.
Josh "Stuffwell" Max
Paper. Because shut up.
Neal "Knife Guy" Ronaghan
Super Mario RPG came first and has the Lazy Shell.
J.P. "Ding-A-Ling" Corbran
Super Mario RPG does not hold up at all.
Neal "Revenge" Ronaghan
J.P. Corbran is an asshole.
Tyler "Woohoo University" Ohlew
Ageless sprite work and better writing trump shallow paper mechanics.
Zach "Factory Chief" Miller
SMRPG set the bar, M&L inherited it, PM ignored progress.
Tom "Bowser innards" Malina
Bowser's Inside Story burns all others to the ground.
Zack "Castle fight" Kaplan
Bowser's Inside Story, since I haven't played any others.
Carmine "Blorbs" Red
Woo bean. Hoo bean. Woohoo blend. I have fury! Q.E.D.
Andrew "Yoob" Brown
Luigi steals the show in the Mario & Luigi series.
Nicholas "Sleeping Samus" Bray
Super Mario RPG—it's charming and has Geno.