Crashmo is in da house, yo!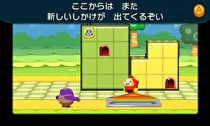 Drop everything. Hiku Otsu (known as Crashmo in North America) is now available on the eShop in Japan! That, and a number of other titles and videos, make up this week's releases. Let's check out everything released on the eShop in Japan this week:
3DS Downloadable Titles
Chō Kōsō Kenzō Keikaku Buildinga – 600 yen
Hiku Otsu (Crashmo) – 700 yen
Bravely Default: Flying Fairy (starting 11/1) – 5,400 yen
Virtual Console
Sonic the Hedgehog 2 (Game Gear) – 300 yen
Ninja Jaja Maru-kun (Famicom) – 500 yen
Updates/Patch
Oni Training
Video Content
Similar to last week, a few more videos for Chō Kōsō Kenzō Keikaku Buildinga (a skyscraper-building puzzle game) appeared on the eShop. While last week's video mainly focused on introducing the game, this week's video shows off various techniques players can use to ensure success with building their towers. Some of the stuff was pretty obvious, mostly encouraging players to make sure the pieces are balanced. A new gameplay video also gives players a good chance to see what the game is like.
Animal Crossing: New Leaf also made another appearance, with a collection of the latest two commercials for the game, as well as a streaming 3D video showing the main character do a variety of things, such as catching fish (well, an octopus and a lobster) without a fishing pole, playing mini-games with other players online, and just meandering about the town.