Can't pick a favorite.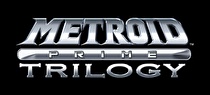 Maybe we're cheating a little. You can buy Metroid Prime 3: Corruption two different ways: on its own, as an early Wii title, or as part of the far superior Metroid Prime Trilogy, which is hard to find these days. Trilogy comes in a sweet Steelbook case and includes a fold-out concept art poster. It's the bee's knees, and you're getting all three Metroid Prime games—the first two retrofitted with pointer controls for the Wii—in one $50 package. Well, it's probably more expensive now, but totally worth it.
Corruption is the end of an incredible trilogy by Retro Studios. In it, Samus travels to multiple distinctive worlds in an effort to stop a virus from spreading throughout the Galactic Federation's integrated Aurora Unit computer system. This is all the work of Dark Samus, of course, a villain introduced in the previous game but who is actually front and center in this one. Corruption may not be the best Metroid Prime game, but it's certainly the most ambitious. It's more linear than the previous games, certainly, but also more varied and, in this writer's opinion, better paced. Each world, including the Space Pirate homeworld (which is never named, oddly) is completely unique in structure and design, and each has its own backstory. Corruption even brings back a bit of the "archaeologist" angle prominent in the original Metroid Prime. It's a wonderful game.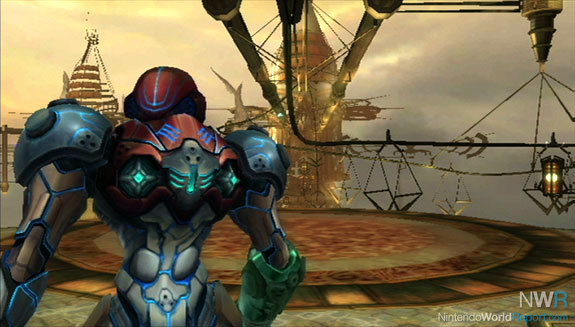 The floating city of Elesium is a uniquely steampunk.
Trilogy, of course, which might also be called "New Play Control! Metroid Prime," benefits greatly from the addition of Corruption's Wii controls. Switching visors and beam weapons is initially awkward, but once you get the hang of it, it's hard to go back, and not having to hold down two shoulder buttons to strafe is also a godsend. Having all three games on one disc also allows you to compare and contrast the games in relation to each other very easily: Metroid Prime, though the team's maiden voyage, is perhaps the best-built game overall. Echoes, while beautiful and far more challenging, feels too long and has some very frustrating duel-world navigation (going into the Dark World is never fun). Corruption eases up the difficulty but does not feel nearly as cohesive as its predecessors. And if you care, yes, the so-bad-it's-good Echoes multiplayer is included as a completely separate mode. Go nuts.
The package's one real downside is that it doesn't unlock bonus content organically as you complete various aspects of the games. Rather, you unlock "tokens" of different hues in order to purchase bonus material from the main menu. Several of these unlocks require friends to send you special green tokens. This assumes the Wii Friend Request system—which is not reliable—actually works. But if you do have some friends with the game and you DO connect to them, then getting all the items isn't too much of a problem.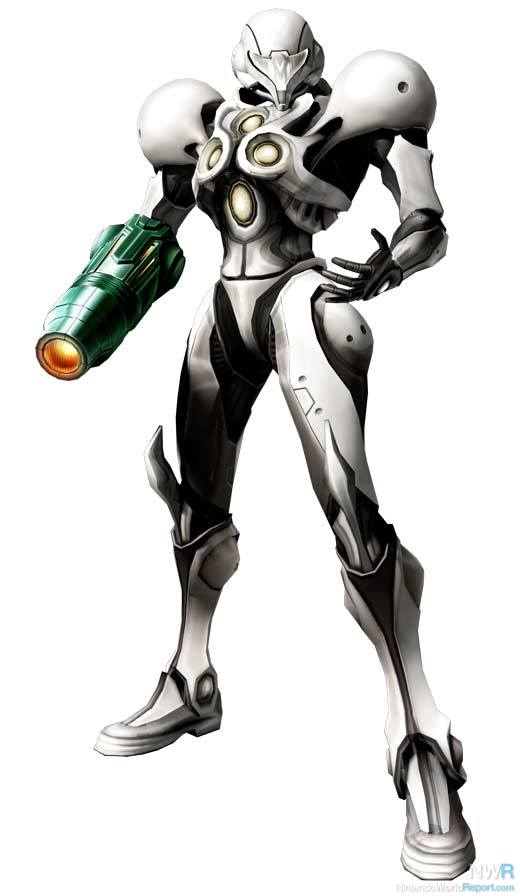 In Metroid Prime 2, Samus discovers the Apple Suit. It's Mike Sklens' favorite.
The Metroid Prime Trilogy is probably the best value on the system, and Corruption provided the control scheme blueprint for it. At one time I owned both games, but you really only need the Trilogy. Yes, even if you own the first two Prime games on GameCube, they're worth experiencing again with Wii controls. Also, full disclosure: if Nintendo brought the Trilogy to Wii U with HD graphics, I'd buy it AGAIN, because I'm THAT GUY.