Check out our first day pictures of Nintendo's PAX Prime 2012 presence!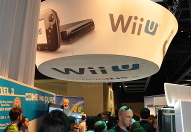 Nintendo came to PAX Prime 2012 with a full suite of games for the Wii U, Nintendo 3DS, and even the Wii and Nintendo DS, spread across three areas at PAX. In the main exhibition hall in Nintendo's main booth, Nintendo was showing demos of ZombiU, Nintendo Land, Pikmin 3, Project P-100, New Super Mario Bros. U, Scribblenaughts Unlimited, New Super Mario Bros. 2, and Mario Kart 7.
On the 2nd and 3rd floors of the North Galleria, Nintendo was demoing Kirby's Dream Collection Special Edition, Pokedex 3D Pro, Pokemon Black and White version 2, Pokemon Conquest, Paper Mario Sticker Star (presentation only), Luigi's Mansion: Dark Moon, Fluidity: Spin Cycle, Professor Layton and the Miracle Mask, Adventure Time: Hey Ice King! Why'd you steal our garbage?!!, Disney Epic Mickey: Power of Illusion, and Skylanders Giants.
Nintendo's Main Expo Booth