Theatrhythm DLC, Shifting World Demo, a few video previews and AlphaDream's first retail release all hit this week.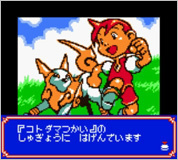 There is something for everyone as the eShop in Japan was updated with a wide variety of content including DLC, a new demo, a new title from Poisoft (with the genre being listed as a "vampire life game") and a few videos as well. Take a look below to see what you are missing out on:
3DS Downloadable Titles
Yoru no Majin to Ikusa no Kuni Samayoeru Vampire – 500 yen
ARC Style: Free Cell – 300 yen
Shifting World Demo – FREE
Virtual Console
Koto Battle: Gaiden Moribito (Game Boy Color) – 600 yen
DLC
Theatrhythm Final Fantasy Songs (4 Songs) – 150 yen each
Video Content
Compared to the recent weeks, quite a bit of video content has hit the eShop this week. First off, there is a lengthy video for the upcoming 3DS soccer game, Pocket Soccer League: Calciobit. The video itself is over 16 minutes long and is a compilation of interviews with soccer lovers from different places in Japan who also are into the game. If you are feeling brave or confident in your Japanese ability, feel free to check out the video below.
Poisoft released two videos showcasing it's recently released "vampire life" game, Yoru no Majin to Ikusa no Kuni Samayoeru Vampire, which we'll call Wandering Vampire from here on out. Taking place in feudal Japan, the main purpose of the game is to wander around in search of Oda Nobunaga so you can suck his blood. Also this week, was a five minute animated trailer for Pokémon Black and White Version 2, a preview for Project Zero 2: Wii Edition and a video from Square Enix previewing this week's Theatrhythm Final Fantasy DLC.
Software Impressions
I've been in a bit of a dry spell when it comes to purchasing eShop games as of late. Part of this is due to being a little tight on the funds, however. A game this week that really stood out to me (I didn't buy it, though) was Alpha Dream's first ever title, Koto Battle Gaiden Moribito. This Game Boy Color game was originally released in early 2001 and is a card battling RPG. The battle system of the game focuses around kotodama, cards that are used and contain monsters, items, and magic. Players can summon up to three monsters per battle in this turn based RPG. The player takes the role of a kotodama battler in training as he is working his way up the ranks in an effort to essentially save the world.
If you are a fan of some of AlphaDream's past work, like the Mario & Luigi games, I wouldn't hold my breath for this game to leave Japanese shores – it only ever saw release in Japan. The good news for all of you out there with knowledge of hiragana and katakana is that since this is a Game Boy Color game, kanji is typically not used due to limitations of character table sizes for the text. If you have a good Japanese dictionary at your side and of course a copy of the game, you can enjoy it easier Alpha Dream's first title.