A run through the RE lore.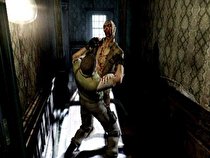 Note: Because it's currently unclear exactly how the plot of RE: Revelations ties into the larger RE mythos (aside from taking place before RE5), this narrative focuses on the adventures of Jill Valentine and Chris Redfield, who founded the BSAA and are the main characters in RE: Revelations.
When we first meet Jill and Chris, they are running the hell away from zombie dogs outside of the Arklay Mansion. They get inside and bar the doors shut along with S.T.A.R.S. colleagues Barry Burton and Albert Wesker, before all four go about trying to find the missing members of Bravo Team in the enormous building, hidden in the Midwestern woods outside Raccoon City. Jill and Chris eventually discover a basement laboratory and a vast cover-up involving pharmaceutical giant Umbrella Corp. and the development of a dangerous viral strain called the T-Virus, which mutates animals and plants into dangerous bioweapons. Among these test subjects are zombies, reptilian Hunters, giant man-eating plants, and the pinnacle of Umbrella's experiments, the Tyrant. The two also uncover Albert Wesker's involvement in Umbrella: he had lured the S.T.A.R.S. team to the mansion to gather battle data on Umbrella's creations! After revealing his nefarious plan, Wesker is seemingly killed by the Tyrant, which itself is subsequently killed (via rocket launcher—very subtle) by Chris and Jill, who fly off into the sunset.
But the horrors don't stop there.
Two months later, Raccoon City itself is infected by the T-Virus, and most of the population is transformed into mindless zombies. Jill Valentine attempts to escape the city, only to be pursued by a new type of Tyrant called the Nemesis—an assassin sent by Umbrella to keep its dirty little secrets quiet. The Nemesis is out to kill all remaining S.T.A.R.S. agents, and largely succeeds, but has a harder time with Ms. Valentine. Through a series of unfortunate incidents, Jill is both infected with and cured of the T-Virus, and learns that the United States government plans to nuke Raccoon City before the T-Virus infection spreads beyond the city limits. Jill is able to hail a helicopter but faces off one last time against a wildly mutated Nemesis, whom she manages to destroy once and for all with a rail gun before escaping Raccoon City, just before its destruction, thanks to Barry Burton.
Meanwhile, Chris Redfield decides to investigate Umbrella on his own, but doesn't tell anybody in order to keep them safe. Unfortunately, his worried sister, Claire, decides to investigate her brother's whereabouts on her own after escaping Raccoon City with Leon Kennedy and Ada Wong (in RE2). Claire's search takes her to Umbrella's European office in Paris, but she is quickly captured and sent to Umbrella's private prison on Rockfort Island. Claire and fellow prisoner Steve Burnside escape the facility but end up in another Umbrella production facility in Antarctica. Sadly, Steve is infected with the G-Virus and turns on Claire, forcing her to kill her compatriot. Ironically, her brother rescues Claire and they work together to bring down the Antarctic research facility. At the last minute, Chris catches a glimpse of Albert Wesker, who has traveled to the base to gain a sample of the T-Veronica virus (developed by Alexia Ashford). The two have a fistfight, which Wesker handily wins, having seemingly developed superpowers since his apparent "death" in the Arklay Mansion. As the facility crashes down around them, Wesker is forced to retreat, and Chris escapes with Claire.
Several years later, Chris and Jill reunite after receiving a tip that Umbrella's Russian facility is developing a new breed of Tyrant. As far as they both know, this is Umbrella's final stronghold. The two fight their way through the expansive facility, encountering many types of monsters before reaching the new Tyrant's test chamber. This new creature, codenamed T.A.L.O.S., is heavily armored, equipped with a rocket launcher, and controlled remotely via an artificial intelligence. Despite being successfully tested against military squads and vehicles, T.A.L.O.S. is damaged enough by Chris and Jill that its programming goes haywire, and it mutates into a massive, muscled beast that hangs from the ceiling. But even it is defeated, and Chris and Jill escape the Russian facility just before Albert Wesker, hot on their trail, arrives and steals all the remaining Umbrella data from the facility's computer systems after killing its director, Sergei Vladimir. Umbrella is gone, but Albert Wesker lives on and now holds samples of all the Umbrella-developed viruses and Umbrella's test data.
Sometime later, Chris and Jill, realizing that the threat of biological weapons exists despite Umbrella's defeat, found the Bioterrorism Security Assessment Alliance (BSAA) under the United Nations.