How a family trio quietly coaxed magic from machines.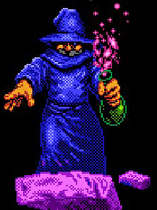 No system is without creators of noteworthy music, no matter how simplistic its hardware or esoteric its library. In fact, it's often the machines on the dustier, more technologically meager end of the chart that house the beeps and boops so many associate warmly with, and which serve as early precedential marks for the generations following. Their limitations inherently defined them—and their games—in all aspects (e.g., fidelity, design, input, music), setting clear technical limits but also leading to the frequent inspired used of the available resources.
In terms of immediate perception, few things arguably stood out as plainly as when a game could spring a handful of unexpectedly well-crafted tunes upon a player. Metroid did it. Duck Tales did it. Mega Man did it, then did it several more times. The NES landscape alone is littered with fitting examples, many of them courtesy of the quietly lauded Tim and Geoff Follin.
Hailing from England, the pair, along with programming-oriented third brother Mike, started dabbling in game music in the mid-1980s. Mike, the eldest, had taken to tinkering with the 8-bit ZX Spectrum personal computer several years prior, and soon landed a job programming for Insight Software. Tim, the youngest and in his teens at the time, followed Mike's lead. He held a casual interest in programming for the Spectrum, which led to experimentations with the audio component. After Mike gave him an opportunity to craft music for an Insight game—The Sentinel—the then-15-year-old Tim more or less became an employee of the studio, where he would go on to score Spectrum games such as Chronos, Solar Invasion, and Bubble Bobble.
After a year at Insight, Tim followed Mike to Software Creations, where he and Geoff would develop a majority of their scores, both individually and in collaboration with each other. After a brief stint at Malibu Interactive, the brothers largely removed themselves from the industry. Mike became an ordained minister within the Church of England, Geoff taught at a primary school, and Tim, having worked as a freelancer for several years, chose to step away from video game composing, citing the irregularity and general undependability of the work.
It's probably too easy to interpret the brothers' stint in games composition as fleeting or inconsequential compared to the Kondos or Uematsus or Tallaricos of the world—the well-known heavyweights. While the music the Follin brothers created may not be eminently hummable or actively define the title, there's no disputing the inspired craftsmanship put into every one of their kinetic soundtracks.
In an interview, Tim admitted that the music he and Geoff created did not always suit the respective games as well as it could have (a sentiment more or less proven through the deliriously inappropriate cosmic speed metal sensibility of the soundtrack for Spot, a simplistic board game for Game Boy staring the titular 7 Up mascot), but was instead the result of trying to extract a desired "cool" sound. This sound, which permeates the majority of both of the Follin brothers' scores, is a cocktail of galloping bombast, swirling arpeggios, dizzying height, and whatever other rhythms or styles that happen to find their way into the mix. Their layered songs also rarely rest on one or two somewhat memorable phrases (the title track to their SNES collaboration Equinox runs through about five). The trait, cursorily attributable to the brothers' progressive rock listening habits, also had simpler roots; one of Tim's expressed goals as a composer was to create transcendent, original sounds through technical limitations, which he and Geoff always did in spades.
Required Listening:
Agent X 2
(C64 - Tim + Geoff)
This early C64 composition works what would grow to be the brother's trademark sound into competent faux-spy themes.
Gauntlet III
(Amiga - Tim + Geoff)
While mostly on the settled, acoustic end of the spectrum, the brothers' arrangement is quick to rocket into a drum fill-heavy synth-metal gallop. Subsequent tracks trade in Gaelic interludes, ride heavy bass lines, and even work with scaled back woodwind leads.
LED Storm
(Amiga - Tim)

While the high-altitude arpeggio synth sound of the beginning strains wouldn't be out of place in something like Super Mario Galaxy, the complex low end, hiccuping drums, and solid wall of sound that soon rise up almost sounds like an Anamanaguchi track.
Solar Invasion
(ZX Spectrum - Tim)
Vectron
(ZX Spectrum - Tim)
Aigina's Prophecy
(C64 - Geoff)
Altered Space
(GB - Geoff)
Solar Jetman
(C64 - Geoff)
Spot
(GB - Geoff)
Time Trax
(Genesis - Tim)
Incredible Crash Test Dummies
(NES - Tim + Geoff)
The soundtrack for this action figure/cartoon/comic tie-in is an incongruous but welcome slurry of pop and rock, delivered at breakneck speed.
Silver Surfer
(NES - Tim + Geoff)
While the aggressively beat-conscious intro track may be the hardest, most whiplash-inducing roller coaster of the bunch, the rest of the soundtrack—equatable to several minutes of incessant, stratosphere-shattering soloing—maintains the pace.
Solstice
(NES - Tim)
The regality of the opening track provides a fantastic build up for the ensuing blast, which nearly forces you to take a knee under its spectacle before dropping into extended, kicking jig, then moving into the rest of the prog-y soundtrack.
Target Renegade
(NES - Tim)
While much of TR's soundtrack plays out a lot like cheesy '80s rock, there are some wistful and worthwhile cuts sandwiched in between.
Equinox
(SNES - Tim + Geoff)
This sequel to Solstice takes advantage of its superior hardware to make a deeper and more varied song style, with delicate instrumentation and atmosphere.
Plok
(SNES - Tim + Geoff)
The soundtrack to this brightly colored platformer is the expected genre fare, but a bit manic, deceptively bombastic, and diverse in tone.
Spider-Man / X-Men: Arcade's Revenge
(SNES - Tim + Geoff)
As funky and fun as it is intentionally cheesy.
Super Off Road
(SNES - Tim + Geoff)
In addition to its clean, full-bodied guitar sound, SOR works in a palpitating, rhythmic sensibility and frenetic pace.
Ecco the Dolphin: Defender of the Future
(Dreamcast - Tim)
Inimitably pleasant and emotional without getting sappy, the varied ambiance—interspersed with sad and even stressful tones—of this soundtrack is actively effective.