This week, one game was scheduled, but never delivered. (UPDATE)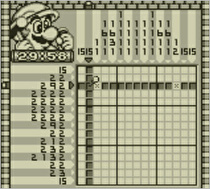 With the slew of content that flooded the eShop in Japan last week, it is understandable that this week's offerings would be trimmed down a bit. Here is what 3DSes in Japan are getting this week:
Virtual Console
Mario no Picross - 400 yen
Video Content
Of course, all of the wonderful streaming 2D and downloadable 3D titles from the 3DS conference last week are still up on the eShop and available for download this week. Also, content is still making its way to Itsu no Ma ni Terebi as well as Nintendo Video. Nintendo Video received two new videos. OK Go is back, this time with their music video for their song, "All Is Not Lost." Also, the fifth iteration of a recurring comedy short was available starting on September 19.
Software Impressions
Well, I was interested in picking up Mario's Picross today, but after checking the eShop earlier in the afternoon, and once more a little after 8 PM, the title is nowhere to be seen on Nintendo's online shop. Nintendo's official website clearly states that it should be available today. This is pretty unusual for Nintendo, as they are usually very punctual with their releases.
Update: After checking out the eShop this afternoon (09/22), the Japan eShop has indeed been fully updated between between last night and now. The shop now has a special section dedicated to the third party titles that were shown off at the Tokyo Game Show. This includes 2D streaming videos from Biohazard Revelations, Metal Gear Solid Snake Eater 3D, Theatrhythm Final Fantasy, Kingdom Hearts 3D, Shinobi and more. Also, the videos from last week's Nintendo 3DS Conference are no longer available for download, so if you missed out on downloading them, you are simply out of luck!