We interviewed one of GoldenEye's producers about how the game came to be, what goes into making it, and more.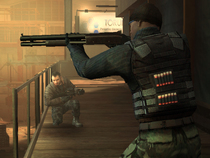 At the recent event in San Francisco, we talked to Graham Hagmaier, producer at Activision, about GoldenEye Wii. He talks about what goes into being a producer, how they adapted GoldenEye to modern times, and where he thinks the Bond franchise is going next.
Nintendo World Report (NWR): How did you start out in the games industry?
Graham Hagmaier (GH): I began working in quality assurance, and then moved my way into production. So now I'm obviously working on GoldenEye.
GH: That's a tough question. You kind of wear a lot of hats. You do things such as events like these. Our main job is to make sure that the developer gets everything that they need to make the game, whether that be finding a cinematics house to in-game cinematics, licensing a middleware for them to use as a game engine, or going in and looking at different weapons for our legal department. Also, staffing events, promoting the game, dealing with retailers, doing demonstrations for first parties, and also going through that quality assurance process, and making sure we hit that quality bar for the consumer. We make sure that we're making great games that deserve the Activision moniker.
NWR: How exactly did the GoldenEye project begin?
GH: That really an Activision/Eurocom idea. We basically worked together to create that. I've been on the production team for about a year and a half now, so it started a little bit before I got on the project.
When Activision got the license for James Bond, obviously one of the greatest Bond games is GoldenEye 64. We looked into reimagining that game for 2010 and bringing Daniel Craig into it.
NWR: What did you do to separate it from the original GoldenEye?
GH: The first thing is to give it a big graphical upgrade. It's a huge upgrade.
Also, you know gameplay has gone a lot further since 1997. I mean, it's been 13 years, so things like running were added, which wasn't in the first game. There's little things like that and bits of nostalgia, such as moments and levels.
We did a lot of updates, and introduced new elements of gameplay. The original was more of a run-and-gun-style shooter, a bit more firefight friendly. Here, you can go guns-blazing, or you can do more of a stealth angle for it. There's a little bit more updates like that, and obviously level design, for a 2010 audience, has been upgraded. Players expect an 8 to 14 hour game, so our design has expanded to include that.
NWR: How did you go about updating the tank level, which was shown off at the event today?
GH: In the original level, you had the option to jump out of your tank, look around, and jump back in the tank. It was a bit more slower-paced than our new, updated version. We've got a new tank design, heat-seeking missiles, a gatling gun. We want to keep it more intense.
Also, the terrain has changed. It's 2010, and obviously St. Petersburg has changed. In 1995, it was the post-Cold War era and was still developing. It's been 20 years, so we wanted to update it. There are freeways you can drive onto or through.
NWR: Why did you make GoldenEye a Nintendo-exclusive title?
GH: It's really synonymous with the Nintendo 64. Activision also really thought there was an opening for the game on the Wii. There hasn't been a console-defining shooter for the Wii. Obviously World at War and Reflex has been good, and The Conduit was pretty good. We just think it's a perfect time for GoldenEye to come out and really take advantage of that audience and really bring that core shooter audience, that maybe played Modern Warfare or is going to play Black Ops, and get them to pull out their Wii again and play another shooter on the Wii.
It also supports our nostalgia for the multiplayer split-screen. I mean, the Wii's perfect for that. A lot of people play Wii Sports, and now they can play GoldenEye multiplayer with their friends. It's really accessible with the new Classic Controller Pro. You can also play it with the Wii Remote (Ed. note: I assume he means with Nunchuk), the Zapper, or the GameCube controller. You can just jump right in, and I just think it's a really accessible game. I know it sounds cliché, but it is really one of those easy to learn, hard to master things. It's one that you can with your little sister, or play it with your buddies.
NWR: Do you feel that there is a preferred control scheme between the traditional controls and pointer-based controls?
GH: I think they're both viable options. I've commented on it before, and our developer is split. There are people on the team who swear by the Wii Remote, and others who love the Classic Controller Pro. It's really the type of audience you are. Do you play a lot of Wii shooters and are more comfortable with the Wii Remote and Nunchuk, or do you play a lot of 360 or PlayStation 3 shooters and are more comfortable with the dual analog? Truly, I like both. There are advantages to both. You can lean with the Nunchuk and do melee moves with a shake. The controls are fully customizable, so that's great, too.
NWR: How do you feel about Conduit 2 being delayed until 2011?
GH: I have no idea. I have no comment. I obviously don't work for Sega or High Voltage or anyone like that. I think GoldenEye and Call of Duty: Black Ops are going to be great shooters this holiday season. It's going to be something, and I hope fans will buy both games.
NWR: Do you GoldenEye and Call of Duty: Black Ops will cannibalize each other since they're being released a week apart?
GH: I don't know. I can't really speculate on that. I have no idea what the audience will go out and pick up. They'll be happy no matter what they pick up as there are two great shooters coming out for the Wii.
NWR: Where do you see the Bond franchise going from here?
GH: The movie is on hold right now, but they'll start up eventually and we'll be making movie games again. We'll be making Bond games from here until our license expires. We're definitely going to take advantage of that. I would say you'll see a mix of original games and move tie-ins. It's a great franchise.