There's a whole lotta shakin' goin' on.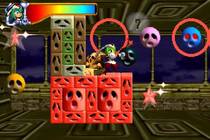 There are some weird video games out there, kids. SkullMonkeys, for example. But also Mischief Makers, a bizarre sidescrolling platformer for the N64 developed by Treasure. This gem puts you in the role of Marina, the robotic assistant of one Dr. Theo. The good doctor is kidnapped by the "Empire" while on a trip to the planet Clancer, and it's up to Marina to rescue him! She accomplishes this task by boosting around environments and shaking things. You see, Marina doesn't have a Mega Buster or Spread Gun. She only has oversized hands and powerful shoulders, which she uses for picking things up and, thereafter, shaking them.
Shake, shake! Shake, shake!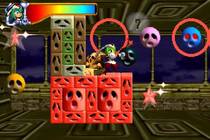 So many things to shake, so little time.

Mischief Makers might be the most bizarre, surreal game on the system. Almost every object on planet Clancer, from people to buildings to family pets, has a creepy "sad face" mask with red, glowing eyes. You will both rescue and mercilessly destroy characters with these masks. Thus, Mischief Makers blurs the line between good and evil, or something. Quite often, the only way to tell good guys from bad guys is whether they're shooting at you or not. Sometimes, though, there are other subtle hints. For example, giant bees and burrowing centipedes don't often have Marina's best interests in mind.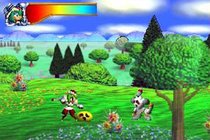 It's like Marina and that guy are playing soccer with somebody's head.

Because this is a Treasure game, you would rightly assume that Mischief Makers involves running and, to a large degree, gunning. In fact, this is not the case. Marina shakes down traditional Treasure motifs in favor of largely exploration-based platforming. Marina can run, jump, and boost in eight directions—an important skill that requires refinement for several of the game's trickier stages. In fact, while the ultimate goal of each stage is to survive to see the finish line, an important secondary goal is to find carefully hidden golden jewels. Finding these precious gems usually involves some superhuman platforming feat, incredibly good timing, or some combination of the two. Their effect isn't obvious until the game's ending: for each jewel you discover, you are treated to one or two more seconds of the final scene!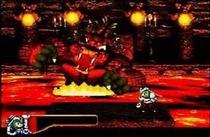 *insert inappropriate "angry dragon" joke here*
Combat is shake-based; almost every object in the game can be grabbed by Marina's man-hands and shaken for comical effect or, alternatively, damage. After making her enemy's skulls rattle, she can throw them at other enemies or, you know, walls. On occasion, Marina can pick up enemy weapons and use them to shoot other enemies, at which point the game does briefly dabble in "running and gunning". For a few brief sequences, Marina is replaced by Teran, a Clancer dude who eschews brain-rattling in favor of punching, kicking, and double-jumping.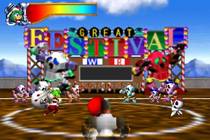 On this game's "oddball" meter, this is about a 4.

From a graphical standpoint, Mischief Makers has aged rather poorly. Its sprite art was excellent when it was first released...in 1997. Now it just looks disjointed and pixelated. The backgrounds have certain dated scrolling effects that look forced today, and character sprites are clearly based on pre-rendered models that have been pixelated - like in Donkey Kong Country - but the quality isn't as good (and this is an N64 game). The game's soundtrack is quirky, and you never get sick of Marina saying "Shake, shake!" Seriously, you'd think it would get annoying, but it doesn't. It's endearing.

Still, Mischief Makers packs in the content—you'd be hard-pressed to find a 2D platformer with more variety, and if you find it in a store for cheap, I recommend picking it up, and then, inevitably, shaking it.