The story behind a company on the verge of seeing the release of their first original creation.
In the volatile world we live in, it's always cool to see companies survive for a long time and remain passionate about what they do. The Melbourne, Australia-based developer Torus Games is a company that's been able to do that. Beginning in 1994, Torus has made more than 90 games, but their latest, Kid Adventures: Sky Captain, due out on June 15, is the first game that was created and developed by them.
"Other games we have designed and got out, but all of those have been funded by Take Two or Nokia, etc.," said Kevin McIntosh, Head of Production. "This was a first where we bet on ourselves, built the game and got it out. After 16 years, it's nice to say we have contributed that to the industry and we're going to look for ways to do more of the same."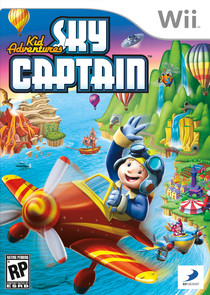 Sky Captain's roots are fully homegrown, especially since Torus itself is owned my McIntosh's father, and two of his brothers also work for the staff of more than 60. The concept for the game was conceived by McIntosh's mother. Initially called Stunt Flyer, it was one of two ideas that were prototyped last summer with the intent to develop one of the games internally. After much deliberation, Stunt Flyer got the green light, but not without any speed bumps.
"We were a little concerned when [Wii Sports Resort] came out with a flying component," McIntosh said. "However, I think we differentiate ourselves enough from that, from controls to gameplay, content and progression."
So despite the lack of MotionPlus support and the release of a Nintendo-made game featuring a similar mode, D3Publisher picked up the title in December 2009. It was rebranded Kid Adventures: Sky Captain, and Torus worked with D3Publisher until the game was finished.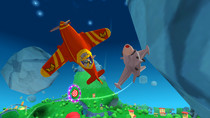 Now, on the eve of their latest game's release, one of Torus's next games has already been revealed. Following last year's Scooby-Doo! First Frights, a beat-'em-up featuring child versions of Mystery Inc., Torus is working with Warner Bros. on a sequel called Scooby-Doo! and the Spooky Swamp.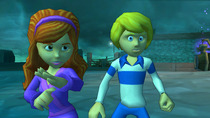 That's not all, though. "We do have something cooking right now that plays to one of the studio's strengths, so hopefully we can show more around E3 this year," McIntosh teased.
Torus is working on more original concepts, including Little Monsters, which the company has been shopping around for nearly two years.
"Since [we started pitching the game], we've had so many 'almost' offers that it's been hard to maintain the enthusiasm," McIntosh said. "You get told that it's a great title, that they want to sign it up, that they'll have an offer by the end of the week, and the following Monday you get to hear that it's not for them. I think some people have split personalities. We'll keep going though – every time we think it has run its course, someone new gets to see it, someone thinks of a solution, and the conversation begins again."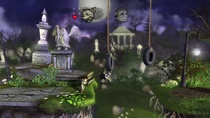 Torus Games is making the leap from proven IP handlers to original game creators, and hopefully it will pay off for them like it has for companies such as High Voltage Software, who also made the leap from proven IP handlers to original game creators when they launched The Conduit last year.
D3Publisher is releasing Torus Games' first original creation, Kid Adventures: Sky Captain, next week for the low price of $19.99. If you're into Pilotwings, and like what you've heard about them, go check it out.