The hub page for the official Nintendo World Report Podcast!
Radio Free Nintendo is a podcast. This is amazing news, I know. It all started when two loud, obnoxious people (staffers Mike and Evan) got stuck in a hotel room with nine other Nintendo World Report staffers. We nearly drove Bloodworth up the walls, but we all decided that the best place to put, or contain if you will, the loud voices of these two men was in a ROBO PODCAST. Unfortunately, robo podcasts are more expensive and we opted for the regular kind. After a few weeks of getting our bearings, staffers Stan and Karl decided to join us (hostile takeover). The four of us then embarked on a magnificent journey that took us absolutely nowhere and cost us more than it paid back. Whatever. We also invite other NWR staffers to join us from time to time. Neat huh? You can LISTEN TO US.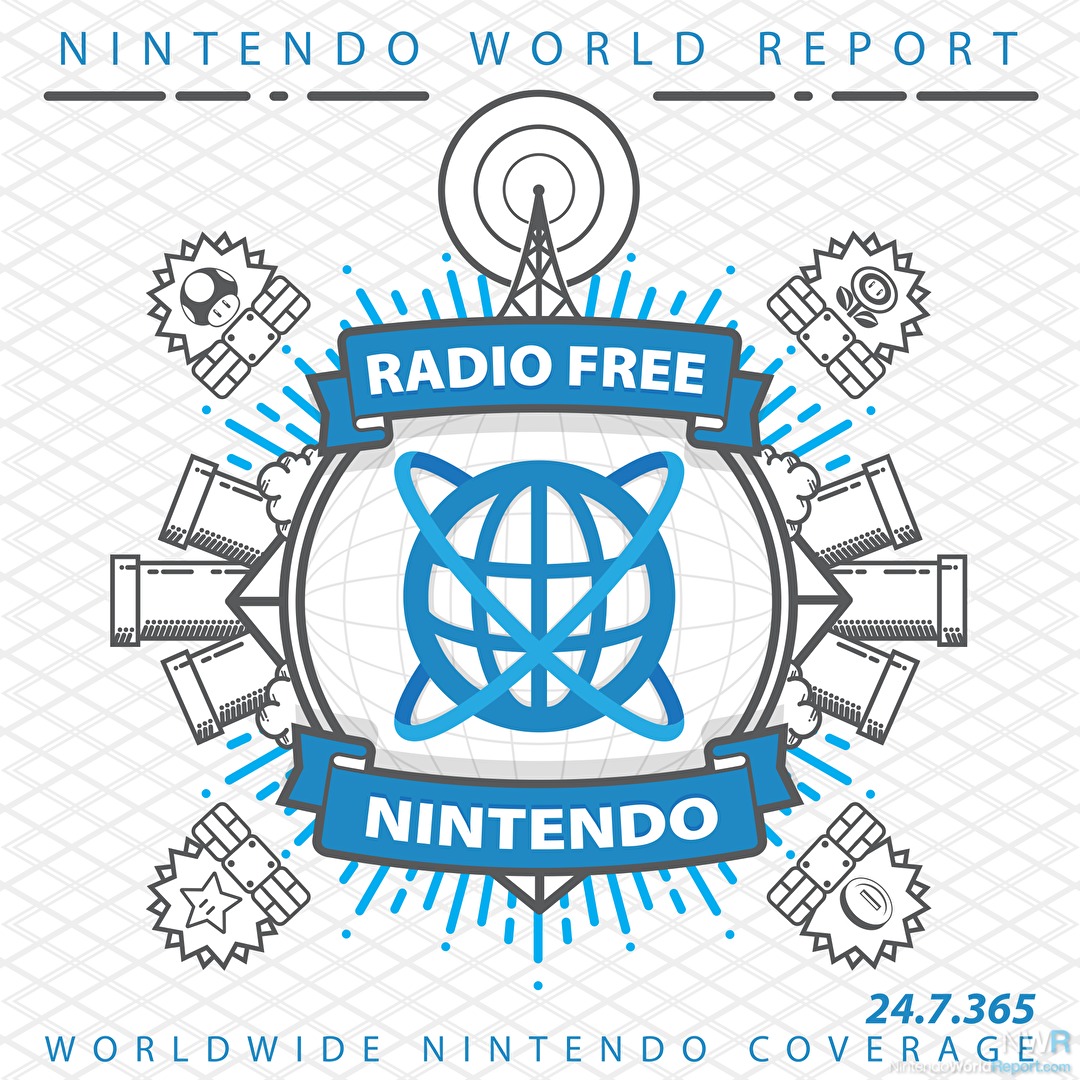 Nintendo World Report is proud, sort of, to present Radio Free Nintendo, a cost-effective method to getting all of your verbal Nintendo news. The cost you ask? A mere eight dollars per listen. Since we have no way of actually charging you for the service, we are using the honor system. Please make all checks payable to Mike and Evan, c/o NintendoWorldReport.com, Milky Way Galaxy, 97852-l33t.
Some of you may be wondering: "What the heck is a Podcast?" Well, for those of you new to the World Wide Intertron 5000, a Podcast is a radio show that is not broadcast live. Rather, it is recorded so that you can download it at your leisure to your PC, or even put it on your iPod (hence the name Podcast). Ours are dispensed on a weekly basis, so you can pick which day you want to listen to it. Do you like Saturday morning Podcasts? Well ours just happens to be one! Prefer Monday night? We can do that too. If you are not tech savvy, click the links below to each individual episode, then click on the MP3 version. Your PC should handle the rest.
The Podcasts, via RSS Feed
Radio Free Nintendo: the MP3 feed
Radio Free Nintendo: the AAC feed
The AAC version of the podcast is (usually) enhanced. What this means is that those listening to the podcast on an iPod or through Apple's iTunes will be able skip between chapters of the program, much like scenes on a DVD, and will also see art associated with each chapter. Furthermore, iTunes listeners can click these images to read more about the topics online.
You can also find Radio Free Nintendo in the iTunes Podcast Directory.
It's also available on Odeo!
You can even Digg it!
The Podcasts, Downloadable as MP3 and AAC
4/18/2007
Episode 48: Biometrics are the Future

Guitar Hero III and Prince of Persia make the news section, while the feature is all about Nintendo's next wave of casual and non-games.
4/11/2007
Episode 47: Jonny Kinda Likes Metroid

Resident Evil news is but an appetizer for Jonny's fanatical exposition on the past and future of the Metroid Prime series.
4/4/2007
Episode 46: RFN Full of Grace

We're all about the NiGHTS sequel, but there's also a discussion of which handheld games deserve a console version. Also: are people swallowing Wiis to protect them from jealous shoppers?
3/28/2007
Episode 45: Nintendo Pirate Radio Rides Again

Stan climbs out of his underground lair to celebrate an otherwise uneventful week in the world of Nintendo.
3/21/2007
Episode 44: Overdosing on PSP

One Mike subs for another as TYP takes Obi's seat. Jonny rants on the moral outrage of GameSpy working with Nintendo's (crap) online service, but we close on a sappy note by telling Miyamoto "what Nintendo means to us".
3/14/2007
Episode 43: Gooey Digital Corn

Chris Kohler from Wired's Game|Life helps us digest all the news from GDC, including PlayStation Home and something about the Wii being a couple of GameCubes duct-taped together.
3/7/2007
Episode 42: Return of the Pale

Mike Gamin rides the wave of podcast guests, while the feature topic is all about Nintendo franchises that need to be on DS.
3/1/2007
Episode 41: E-4-Some

Jon Lindemann sits in to make it a foursome, and the topics include what may become the spiritual successor to E3.
2/20/2007
Episode 40: Angry Karl Rides Again

The Everybody Votes Channel gives us an idea…what other channels could/should Nintendo be planning? The resulting discussion sends Karl into a tirade of hilarious proportions.
2/14/2007
Episode 39: An Extra-Lovely Iteration

…in which a bunch of nerds pretend to know what kinds of games attract the ladies. Yeah, that's how we rock Valentine's Day!
Episode 38: Love Letters

An extra helping of listener mail beefs up this episode, including questions about Final Fantasy XI and other MMORPGs on Wii. Heh.
Episode 37: The GameCube Gang

As part of NWR's GameCube tribute week, we wax poetic about the beloved box and its many excellent games.
Episode 36: And Karl Makes Three

That guy drops in half-way through to help discuss the first-quarter Wii lineup. Not that we needed his help or anything.
1/19/2007 Episode 35: The Maybe of Multi-platform

Dan Bloodworth stops by to help us solve the puzzle of whether multi-platform games can truly be viable on the Wii.
1/10/2007 Episode 34: The Week the News Stood Still

The podcasters do their best to turn a lemony news week into audio lemonade. The feature topic is all about reviving canceled and forgotten games.
1/4/2007 Episode 33: Podcast Killed the Mailbag Star

This special episode is composed entirely of listener mail and weird, tangential conversation which inevitably touches upon Karl's ill-fated novel about golden swords.
12/28/2006 Episode 32: Men Without Wiis

Pirates take over the airwaves but find themselves unable to talk about Wii, since neither of them has found one yet. Aside from their own personal Wii droughts, they also speculate on 2007's Wii software drought.
12/20/2006 Episode 31: Square-Enix Hearts Nintendo

The announcement of Dragon Quest IX for Nintendo DS provides plenty of food for thought, but we also project our wishful thinking on the mysterious WiiConnect24 service.
12/13/2006 Episode 30: There's Christmas in Europe!

Jonny takes a rare turn as host as the gang delves into the Wii phenomenon, the GameCube version of Twilight Princess, and international holidays.
Episode 29: Plastic Wheel Edition

The RFN gang discusses the Wii launch for Japan and other early Wii-era topics.
11/29/2006 Episode 28: The Wiik After

As most of the NWR staff begin to obtain their own Wii systems, the saga of mainstream Wii love (and PS3 hate) begins. Also, we complain about the early U.S. Virtual Console lineup.
11/20/2006 Episode Twenty-Seven: Ultimate Wii Launch Spectacular

What? Did the Wii launch and no one told me? wtf im pissd!!1. This is Steven Rodriguez's tone poem about his Wii launch experience. I recommend you listen, it's like you were actually there (even if you were actually there anyways)!
11/14/2006 Episode Twenty-Six: Thanks for the Memories

OH NOES TWO PODCASTS IN ONE WEEK. This is a very special edition where we slyly release the name of the new website (which isn't new anymore, I guess) after reminiscing about how we got here and what made us who we are. Actually, I don't know why I'm saying "we." I wasn't invited to this one.
11/12/2006 Episode Twenty-Five: Wii Launch Special Edition

We bribed Chris Kohler and former Planet GameCube director Billy Berghammer to come talk with us about Wii. They ridicule each other a bit, and then declare Wii teh awesome (with major complaints too, what whiners). THIS IS AN INTERESTING PODCAST.
11/07/2006 Episode Twenty-Four: Let's Not Forget Zelda

Jonathan Metts and Steven Rodriguez duke it out to decide who's the better director, Evan and Karl agree that Sim City isn't worth ten bucks right now, and we talk about Zelda. Like, too much.
10/30/2006 Episode Twenty-Three: Game Marketing 101

Mike Sklens uses his degree and hosts a rousing discussion about video game marketing with Stan and Karl - the discussion is long, but worth it. Also featured this cast are the winners of the Naruto contest and RFN's first ever industry interview.
10/19/2006 Episode Twenty-Two: The Nintendo Game that Wasn't

The gang's all here, but Jonny has to stand in for Mike as we discuss Clover Studios, Pre-Ordering Wii, and the song list for Elite Beat Agents. C'mon, Cher? Sweet.
10/12/2006 Episode Twenty-One: Activision, Ubi, and PS3

Karl and I do our best to make a podcast at the last minute after a long, long, hard, dreary week. This one didn't turn out so great. I'm being honest here! You should listen anyways. Or just listen to Episode 6 instead. (Bloodworth does have some cool stuff to say about Activision's Wii titles.)
10/04/2006 Episode Twenty: The Madden Curse is Real

Windy, Blood, and TYP - we're just a regular gang of l33t intertr0n-geeks. Our main bone of contention with Madden is that it's boring, but we do enjoy the Xbox 360. No, for real, Banjo-Kazooie will crush you.
09/25/2006 Episode Nineteen: For the Sake of Controversy

Another four person podcast for ye, this time with two pirates, an Oregonian, and the site director IN AN ALL-OUT BRAWL! (P.S. The Oregonian wins.)
09/18/06 Episode Eighteen: The Wii Press Event Retrospective

Evan is joined by fellow staffers Jonathan Metts, Daniel Bloodworth, and Mike Gamin to talk about everything that was announced during last week's Megaton. The major games discussed are SpongeBob SquarePants, Elebits, Super Monkey Ball, and Madden *shudder*. (We also talk about minor titles like Zelda, Wii Sports, Rayman, and Super Paper Mario.)
09/13/06 Episode Seventeen: Always Mention Super Paper Mario

Mike and Evan are back! No more of this frilly Pirate half-Radio Free Tree-Hugging Hippie Fest. This is a man's podcast, and like men we talk about Wii. A lot. And PS3, Star Fox Command, and everyone's favorite, Super Paper Mario. Boo yah.
09/06/06 Episode Sixteen: Talking 'bout my Bit Generations

Karl, Stan, and special guest Steven "WindyMan" Rodriguez ham it up about the Game Boy Advance line of Bit Generations games. Steven takes great pride in being super-good at playing videogames (he will kill you at Tetris. No really, you will cease to live).
08/30/06 Episode Fifteen: Come Ride My Dark Horseman

Mike Sklens is back, and along with Karl and Stan, talks about the gaming apocalypse! Four different theories are talked about, with the appropriate amount of humor wedged in there for good measure. Hint: They make fun of bad games!
08/28/06 Episode Fourteen: Arthouse Pirate Theater 3000

Karl returns this week, and he brought Stan along with him to discuss the artistic side of video games. About halfway through, they start crying and talk about how Yoshitaka Amano's art changed their life. If you can stomach it long enough, there's actually some meaty debate stuck in there.
08/16/06 Episode Thirteen: We Were Nintendo People
Nintendo Pirate Radio's Karl and Radio Free Nintendo's Evan join hands and make merriment to the sweet melodies of Caruso. We also discuss how freaking sweet it is to be loved by you (and Nintendo).
08/09/06 Episode Twelve: Evan and Lindy
As a completely lackluster replacement for Mike, Jon Lindemann stands in and pretends to be half as witty as the Sklensinator. He also silenty takes off his pants mid-cast.
08/02/06 Episode Eleven: Nintendo Pirate Radio Returns!
Karl and Stan raped and pillaged their way through the staff (Lindemann liked it, I think) in order to get another Podcast on the air. Well whatever, you wanna fight? It's on, drizzle.
07/26/06 Episode Ten: Animal Crossing is my MySpace
Mike and Evan are back for some gaming journalism discussion, followed up by some listener mail, with Madden mockery for desert. I mean dessert.
07/19/06 Episode Nine: Nintendo Pirate Radio
Staffers Stan and Karl figured they could podcast better than we could, so we said "Whatever my shizzle, you go ahead and drizzle, fizzle!" Which they did, as you will hear.
07/12/06 Episode Eight: Viva la France!
What good is it for a man to gain a DS Lite and Brain Age, but forfeit his dignity? Idiotic Super Smash Bros Wii rumors are debunked while we debate the quality of Crazy Taxi's soundtrack. Finally, without Jonny's permission, we preview PGC's upcoming special about underrated GameCube games.
06/28/06 Episode Seven: My DS Sounds Like Mr. Feeney
This episode explains Evan's incorrect method for playing Sonic, Mike's determination to nominate "Stormbreaker" for Academy Awards, and a minor note about Chopin (see what I did there?).
06/21/06 Episode Six: Uwe Boll Will Beat You Up
Mostly a discussion of Peter Moore's young daughter; we do get sidetracked on videogames and movies for a short portion of time before remembering that we hadn't yet mentioned Super Paper Mario.
06/15/06 Episode Five: The Jonny Interview
In this episode Evan interview's Planet GameCube's director, Jonathan Metts.
06/06/06 Episode Four: Rumorton

This episodes is all about Wii rumors. A lot of them have been circulating recently. Also, Evan is out so we replaced him with a special guest host!
05/31/06 Episode Three: Bafomdads

This cast's main topic is: what the shizzle GameCube, where you going in the middle of the night without telling me you leaving? Also discussed: GBA, Star Fox, and Lizzie McGuire.
05/24/06 Episode Two: Elite Unbeatable Agents

This week we cover the other side of Nintendo's E3 booth: the DS games. This includes Star Fox DS, Pokemon Mystery Dungeon, and Contact. DS Lite's upcoming release and available colors are also mentioned, briefly.
05/17/06 Episode One: Snappy Title Coming Soon

In this cast we discuss our experiences at E3, particularly in Nintendo's Wii booth. Also covered: Microsoft, NCSoft, Sony, Too Human, Okami, and bread.
Check this page every Wednesday for the next episode. For realz.
And we have a super secret e-mail address too. Want to tell us what you think? Listen to our podcast and we'll tell you how.