The Famicast wouldn't be complete without some in depth talk about cricket...right?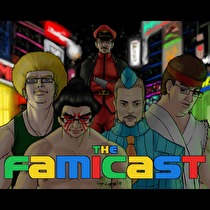 Subscribe via iTunes (Please rate and review, too!)
Sairus is AWOL this week, but to pick up the slack there's twice as much James as usual! James Winovich joins the Famicrew as a special guest from the ALT Insider Podcast to keep things fresh and bring you the latest from all things Nintendo in Japan!
New Business is standard fare as Ty plays some cricket on the Super Nintendo. James Charlton talks about his time with Axiom Verge, Danny goes old school with Super Punch Out and James W. talks about his recent experiences playing Rocket League and a Skyrim hyper mod on PC.
For news in general the crew weighs in on the absolutely crushing Pokemon Sun and Moon sales which continue to break records all over the world as well as new details from Zelda: Breath of the Wild and its various amiibo. A trickle of new pledges for Switch launch games also get a look at, including the news that Stardew Valley is canceling their Wi iU edition in favor of the newer console. All this and much more!
To round out the show, the guys dive into another game of Fake or Real courtesy of Ty. Play along and let us know how you did! We finish up the show with your comments, tweets and emails. As always, if you wants your questions, comments or complaints read out on the air, feel free to shoot us an email (famicast@nintendoworldreport.com), hit us up on Twitter (@thefamicast) or leave a comment in the Talkback below!
This podcast was edited by Danny Bivens.
Music for this episode of The Famicast is used with permission from 8 Bit Weapon. You can purchase their music and shirts from their website 8bitweapon.com
Additional music for this episode of The Famicast is copyrighted to Nintendo, and is included under fair use protection.
Quiz music supplied by Bulba Mike, check him out on YouTube: https://www.youtube.com/user/MrBulbamike
The artwork for the show was designed by Tony Losoya, follow him on Twitter @Tony_Losoya