Get your splat on with the red-hot Famicrew!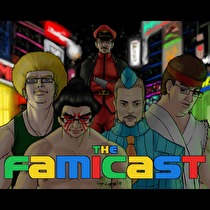 Subscribe via iTunes (Please rate and review, too!)
This episode is hot! By that we mean the whole Famicrew is HOT! By that we mean, physically in pain from the sweltering humidity here in the far east.
Alas, onwards with the show! Danny talks about the least import friendly Nintendo 3DS game ever, Dragon Quest X Online. How do those on screen touch buttons work out for him? Next, Ty discussed Microsoft's new Virtual Console service, where they have kindly put 30 classic Nintendo games for a dollar each! Only available on the Xbox eShop unfortunately. JC wraps things up with some Splatoon impressions. Did the long wait for the 2.0 patch work out to his advantage? Probably not.
A whole bunch of Japanese news is consumed, Devil's Third, DQX, DQXI, Mario Maker, Animal Crossing, and 3DS Karaoke Joysound. Basically all the games Japanese gamers love. It's a good time! Be sure to listen to what's lighting up the Japanese charts too, the amount of Xbox One consoles sold this week may shock* you!
Lastly the crew tackle your lovely letters and tweets, starting with a pretty heavy Life in Japan type question about Japanese teens. Are they all videogame playing shut-ins, or just misunderstood?
Be sure to drop us a line famicast@nintendoworldreport.com or on Twitter @thefamicast. We'd love to hear from you!
This podcast was edited by Danny Bivens.
Music for this episode of The Famicast is used with permission from 8 Bit Weapon. You can purchase their music and shirts from their website 8bitweapon.com
Additional music for this episode of The Famicast is copyrighted to Nintendo, and is included under fair use protection.
The artwork for the show was designed by Tony Losoya, follow him on Twitter @Tony_Losoya