Hyrule Warriors, some talk about the New Nintendo 3DS and even a bit about Japanese baseball on the show this month!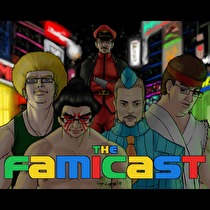 Subscribe via iTunes (Please rate and review, too!)
Well, summer time is coming to a close, but the Famicrew has some hot topics (something like that) to talk about this month. The guys are down a man as Matt wasn't able to make it, but Ty and Danny hold down the fort in the midst of the barrage of news that hit the airwaves. Danny starts off the show with Hyrule Warriors in his new business highlighting gameplay, adventure mode, the problems with co-op and more. Ty gives us another dissertation about the merits of fighting games (there's some cool stuff coming to KI on Xbone!) as well as some impressions of the mobile version of Puzzle Bobble, aka Bust-a-Move.
The New Nintendo 3DS is set to release in Japan this October and is going to bring some interesting changes to Nintendo's handheld. The guys break down what the new hardware can do and what this can potentially mean for the future of the platform. There are tons of other news tidbits thrown into the mix, as well as Ty's Fake or Real. You may just find your self up anime creek without a body pillow!
After all of the game talk, there is a special Life in Japan segment about Japanese baseball and what it's like to go to a Japanese game versus going to one in the US. Danny is joined by Josh to talk about baseball whiskey girls, Tom Selleck's mustache (he is Mr. Baseball after all!), awesome amusement park rides around the Tokyo Dome and more. Be sure to tune in to get a taste of the last bits of Japanese summer!
Of course, if you have any questions, comments, complaints or criticisms, be sure to reach out to us! You can leave a message in the Talkback below, send an email to famicast@nintendoworldreport.com, tweet at us @thefamicast, or post in the Questions for the NWR Japan crew forum thread.
Famicast a go-go, baby!
This podcast was edited by Danny Bivens.
Music for this episode of The Famicast is used with permission from 8 Bit Weapon. You can purchase their music and shirts from their website 8bitweapon.com
Additional music for this episode of The Famicast is copyrighted to Nintendo, and is included under fair use protection.