Ladies and gentlemen, ready your CalorieMates and lower your free-to-play expectations for the latest podcast from Japan!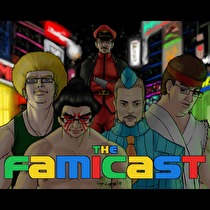 Subscribe via iTunes (Please rate and review, too!)
Kannichiwa! The Famicast is back this month with the normal format as Ty and Matt join Danny for another action packed show. New Business kicks off per usual with some talk about Famicom (NES) Remix 2 and Metal Gear Solid V: Ground Zeroes from Matt. The conversation takes an interesting turn involving Jack Bauer, radio chatter and delicious healthy snacks from Japan called CalorieMates! It's definitely a treat (har har) that you won't want to miss!
Danny let's you all in on how good (or bad) Sega's latest free-to-play racer on 3DS, Initial D: Perfect Shift Online, turned out. You can read his written impressions in the review, but it is a lot more fun to hear the disappointment resonate with the whole crew. Ty lets us know what's going on in the world of fighting games (we even get a Mario Paint reference in there) and also how he is enjoying Layton vs. Wright again on 3DS.
On top of the latest news from Japan, the guys also have an impromptu discussion about the Game Boy's twenty-fifth anniversary and what kind of games helped shape their handheld playing habits. The success of Yokai Watch in Japan and the upcoming sequels are also discussed in the news. Be sure to sound off with your comments and thoughts about the Game Boy or anything else below, by tweeting at our Famicast Twitter handle (@thefamicast), or with posting something in the Questions for the NWR Japan Crew forum thread. Famicast a go-go, baby!
This podcast was edited by Danny Bivens.
Music for this episode of The Famicast is used with permission from 8 Bit Weapon. You can purchase their music and shirts from their website 8bitweapon.com
Additional music for this episode of The Famicast is copyrighted to Nintendo, and is included under fair use protection.