We are all going to seperate places, but we meet at the crossroads with the coolest cast around!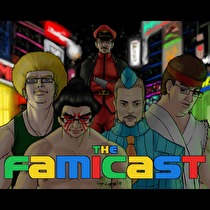 Subscribe via iTunes (Please rate and review, too!)
The end of the summer is certainly nigh, but that doesn't mean we can't have some fun along the way!
In this Famicast episode, Daan kicks things off talking a bit more about Darumeshi Sports Shop. He has now played all the games and seems still extremely addicted to it. What attracts the man to this weird baseball minigame collection? Well... we don't know, but you might as well hear him ramble about it anyway. Danny Biv...guy...dude follows him up by talking about something nobody bought. Yes, he is indeed talking about a Yakuza 1&2 HD, but hey there is some Hulu Japan talk as well. Ty brings us home talking about some fighting games and to be precise, six of them. You can get additional man points by guessing the games he is going to talk about. It is alright, take your time.
We then move into the news as we discuss the latest Media Create Sales and the Nintendo 3DS continued domination. After that, we discuss the Japanese bits from the Nintendo Direct that happened in August. This features discussions of Monster Hunter, One Piece, Nobunaga's Amibition and Daigasso! Band Brothers P. We also tackle some breaking news, as we just learned about some spanking new content from Level-5. It is truly a variety of content that can only be delivered by the best of people. Sadly, they were not available to do our job.
Life in Japan is a Tokyo Big Sight special, as Ty and Danny recentely went there for various events. Danny talks about the hot scoops of the Pokémon Game Show and then Ty has his own things to talk about as usual, which brings us back to the Geocities, Mortal Kombat artist person mentioned months ago. After the formalities are concluded, we come back to discuss Gamescom, which was originally part of the New Business of Daan. He talks about the new consoles as the Dutch lord has actually touched those things. Splendid!
We are sorry for the somewhat shorter experience this week, but if you pay $60 now upfront... you will have our pack of adventures pre-ordered with additional downloadable content. It does wonders for your happiness and Danny's wallet, because he wants all the games. That isn't as cool as Ty's swag, but what are you going to do about it?!
This podcast was edited by Danny Bivens.

Music for this episode of The Famicast is used with permission from 8 Bit Weapon. You can purchase their music and shirts from their website 8bitweapon.com

Additional music for this episode of The Famicast is copyrighted to Nintendo, and is included under fair use protection.