The first video board game for the NES is an odd bird.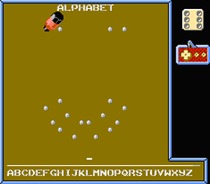 Anticipation is one of those games, not unlike 3D World Runner, that I played a lot as a kid and thought that everyone else played it as well. Developed by Rare, it basically amounts to being a video game version of Pictionary, but with weird twists. For example, instead of a player drawing a picture, the computer does.
Four players move around a board, landing on different colored and themed spaces while trying to answer one puzzle for each of the four colors. When someone accomplishes this, they move up to the next floor, where the puzzles are more challenging. Typically, there are three or four floors per game.
The challenge goes from laughably easy to freaking impossible rather quickly. On the lowest setting, you can see how many letters the answer is, and also see dots that the computer draws over as it makes the picture. The highest difficulty features no hints at all. That wouldn't be so bad, except some of the answers are oddly specific. For example, while playing this game with fellow NWR folks at PAX East, we stumbled upon "Conical Flask." I'm not kidding.
| | |
| --- | --- |
| The game board, complete with each of the magnificent playing pieces | NWR Contributors Lauren Lewandoski and Billy Brown dumbfounded by the conical flask |
The most notably peculiar part of Anticipation is the cover art, which features eight people on it that look out-of-time even in the '80s. Ironically, the game only supports four players, so I guess the game is so rollickingly fun that four people will just watch it.

The four-player support in Anticipation wasn't something too uncommon for the era, as two players shared a controller, one using the D-pad to buzz in, and the other using the A and B buttons. The inherent problem is that the A button also enters in your answer, so many times button mashing could screw you. However, that concept has a bit of a fail-safe, as you always have two tries to guess an answer.
I feel the clearest example for how odd Anticipation is with the playing pieces. Monopoly, for example, has a top hat, a dog, and a thimble, which are admittedly a little weird in their own right. Anticipation puts Monopoly's roster to shame, with a pair of heels, a fallen-over ice cream cone, a dilapidated teddy bear, and a French horn.
Anticipation's quirkiness makes it a fun retro indulgence. If you have never checked it out, I honestly recommend trying, as it is a very unique game. Also, it has really awesome music from longtime Rare composer David Wise, who was responsible for the Donkey Kong Country soundtracks.