We're teaming up with Switch accessory company KontrolFreek to give away a slew of Labo Kits and more.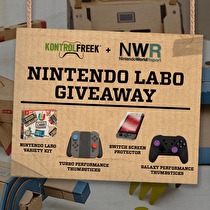 Curious about cardboard? Want some Labo for your Switch? Wanna pump up your thumbsticks? Need some screen protectors? Just click this link and enter our contest with KontrolFreek by completing a few social media tasks. All the finer print can be found at the link.
But wanna know what you can win? Well, Nintendo World Report and KontrolFreek will pick 15 winners after the contest closes at 11:59 p.m. ET on Friday April 13 and those winners will each get a Nintendo Labo Variety Kit, Switch Performance Thumbsticks for Joy-Con, Performance Thumbsticks for Switch Pro Controller, and a Switch Screen Protector. Cool, huh? Well, what are you waiting for? You can't win if you don't play. And all you gotta do to play is follow us on Twitter and do some other things that you might be doing already.
And if you have any cool ideas of what you want to do with your Labo, feel free to share in the comments or tweet at us @Nintendo_NWR.