While we wait for a release date, I'll sit in awe of this pretty side-scrolling character action joint from Vertex Pop.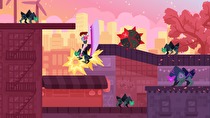 After Vertex Pop launched Graceful Explosion Machine shortly after the Nintendo Switch's launch in 2017, they became a studio I paid attention to. So when they announced Super Crush KO last year, I paid attention.
It was playable at PAX East 2019, which was a treat as it took a lot of the shine of GEM's shoot-'em-up ideas and transplanted them into a side-scrolling brawler. As someone who's not a big shooter guy, this was music to my ears. The combo-heavy nature is reminscent of character action games like Bayonetta and Devil May Cry and I can't wait to play more of it.
Anyway, here's a shiny new trailer for E3 2019, where our team will get to play more of Super Crush KO.
And if you want to see our first-play footage of Super Crush KO from PAX East 2019, check it out below. I swear we got better when we learned the ins and outs of the game more.