This weeks theme: Viewer Requested Games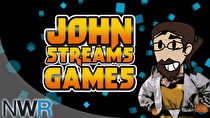 It's saturday and that means John will be streaming a game of your choosing over on our YouTube channel, NWRTV. While pretty much every week we put the game selection up to a vote on our Twitter, this week is exceptionally viewer based as each game is one that has been specifically requested by viewers during streams.
You can vote via twitter here:
This week John is streaming viewer requested games! Vote for your favorite then tune in to NWRTV at 10 pm ET! https://t.co/Vm3tU7uxh7

— NintendoWorldReport (@Nintendo_NWR) September 9, 2017
Then tune into NWRTV at 10:00 pm Eastern Time to hang out and play a game. Don't forget to subscribe while you're there!