UPDATED: Ninety-nine episodes and this is the first "lost" one.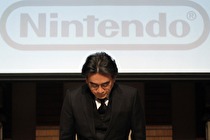 Due to Youtube and Audacity glitches last night, the scheduled episode of Nintendo News Report and the backups were not available for audio upload and to supply a video on demand version. Below is the highlights of the episode as recorded by Alex and Donald.
STORY 1: Nintendo Announces Switch Presentation On January 12
Both Alex and Donald are excited for the details
Predictions for date, price and launch lineup: Both believe $299 with Mario Kart, Alex thinks maybe $349 with Zelda and Mario Kart, both mid-late March (17th or 24th).
Donald wants at least one major online game at launch.
STORY 2: October 27 Pokémon Sun and Moon Trailer
Alex enforcing media blackout on the trailer, is upset that so much of the game has come out pre-launch.
Donald was pleasantly surprised by what was detailed, wants to use all three starters at a point. Is going split digital/physical on both versions.
Strategy appears to be working for Sun and Moon as they're the most preordered games in Nintendo history.
Donald thinks that a number Alex has heard is accurate, but they've only given a little bit of detail about the Pokémon and there's other things we don't know about.
STORY 3: Monster Hunter XX Announced
Alex thinks this will come west on 3DS, while Donald thinks the date is way too coincidental to not be Switch-relevant.
Capcom's financials had 2+ million for Street Fighter V and a Monster Hunter game, and 4m+ for RE7 before the end of March.
Donald thinks Monster Hunter Switch is inevitable, possibly launch day.
STORY 4: Nintendo Releases 2nd Quarter Financial Results
Donald points out Nintendo's profit was entirely due to a one-time event: "If you ever wondered what extraordinary income is, look at Nintendo's financials this quarter."
Pokémon Go has already pulled in $100m just for Nintendo, based on their 32% stake in the Pokémon Company, and Super Mario Run is going to launch in 150 countries.
If Switch storage rumors (microSD only, no hard drives) are true - that's how devkits are set up, it could change in the launching unit - then download sales will be way lower than other companies.
Wii U software sales down year-over-year for the same six month period because Star Fox Zero and Tokyo Mirage Sessions didn't measure up to Super Mario Maker and Splatoon.
META:
Next week will be episode 100 - if this episode counts - and there will be something big happening.
Next week will include the Animal Crossing Direct discussing the New Leaf patch.