Neal shows off some goodies from Spencer's The Legend of Zelda: The Shadow Collection.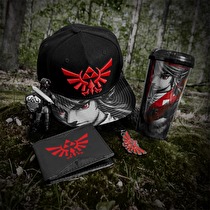 Starting July 11, you can go to Spencer's in your local mall (or their website) and get some cool Zelda merchandise, all with a shadowy, dare I say twilighty, theme.
The big exclusive with this is the Shadow Link figure, which is part of Jakks Pacific's World of Nintendo series. This figure is based on the Ocarina of Time Link figure already released in the series, but this Link has the appearance of the iconic doppelganger boss from the Water Temple.
Additionally, we got check out a hat, shirt, socks, and dog tags all with the neat shadow theme. Check the video below for an unboxing of the items, as well as a guest appearance from a dog.