This week's live video show features Renegade Kid's Jools Watsham to talk about Satoru Iwata's death, Mutant Mudds, Xeodrifter, Dementium, and more.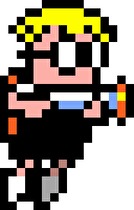 UPDATE: Show's over, folks. We opened by discussing Satoru Iwata's death, so in addition to talk about Jools' upcoming games and more, you also get to Jools and Neal try to process the passing of a Nintendo legend.
Tonight at 8:00 p.m. ET, you can hear about all things Renegade Kid as we're joined by Jools Watsham. We'll be talking Mutant Mudds Super Challenge (coming to Wii U and 3DS soon) and Dementium Remastered. There might even be a release date announcement for Xeodrifter on Wii U! And, naturally, we'll also inquire about the long-delayed Treasurenauts and probably pester him about the late '90s at Acclaim when he worked on Iggy's Reckin' Balls and South Park: Chef's Luv Shack.
Feel free to ask questions in the chat on the YouTube page. You can even go tweet at @Nintendo_NWR right now with your questions if you can't make it live.
What is Nintendo World Rapport? It's a new show at our YouTube channel NWRTV where we talk at length to video game industry people about their life, ranging from what games they've been playing (or making) to how they got to where they are.