Curious about how the GBA launch title holds up? Here's a discussion about it.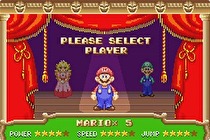 With the recent release of Super Mario Advance on the Wii U Virtual Console, Neal and Andy took a look at the first few levels of the game and waxed poetic about the offbeat remake of the offbeat Mario game.
Super Mario Advance first hit the Game Boy Advance in 2001 as a launch title for the Nintendo handheld. It's a remake of Super Mario Bros. 2 and features a whole slew of changes.
Check out the video below and let us know what you think about the format. We're definitely experimenting with these and would love your feedback.