Learn more about Sonic Lost World by watching our video walkthrough. Also, check out a short 60 FPS video of the game in action.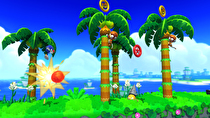 On October 29, Sonic Lost World will be released on the Nintendo 3DS and Wii U. The new game features numerous nods to the classic Sonic games along with the return of the Wisps from Sonic Colors. In the following video walk-through, Sega's Aaron Webber shows us a near final build of Sonic Lost World.
Sega is optimizing the new Sonic game to run at a silky smooth 60 frames per second. Because YouTube does not show 60 FPS, we've also created a short video showing the game running at its true frame rate.