Cuphead, FFXII, Splatoon 2, Gato Roboto, and more! Plenty to talk about and that's before we even get into the hearty news week and more of your listener mail!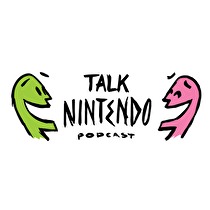 We kick off the show by talking about our new roles with NWR's Patreon! We'll be releasing some awesome exclusive content including a monthly exclusive Talk Nintendo Podcast!
Please consider supporting us on Patreon, thank you!
Another week down and another week closer to E3, but we aren't there yet so naturally we have plenty of games to chit chat about. Casey kicks it off with a trio of Quick Bite games; touching on Cuphead and how it grew on him, FFXII and how it was nice to finally get back to it, and Splatoon 2 and how it was a blast to play once again! Then Perty McPertington has been playing Devolver Digitals latest joing, Gato Roboto. This true and tried Metroidvania stuns with its simplistic visual approach, but does it bring anything new to the table? Then Casey's been playing Yoshi's Crafted World... or has he?
Naturally we get into the eShop Roundup and are happy to announce this week's giveaway game is Little Friends: Dogs and Cat! Speaking of little friends, boy do we have a News Block for you! That's right, it might be E3 soon, but the news isn't slowing down for anything. To wrap up the show we dive into some more of your listener mail.
#Cuphead, #FFXII, #Splatoon2, #GatoRoboto, and more! Plenty to talk about and that's before we even get into the hearty News Talk and a bunch of Listener Mail! RT this for a chance to win @LittleFriendsEN!

Oh and check out our revamped Patreon: https://t.co/iPg9Z3eYL9 pic.twitter.com/hx1VxjVYAB

— TalkNintendoPodcast (@TalkNintendoPod) May 30, 2019
If you have any questions, comments or concerns please contact by tweeting us or by send us an email!